Foodland Opens a New Eatery for Poke Lovers on Oahu
Redfish Poke Bar by Foodland will feature freshly made Hawaii-style poke, locally inspired dishes and local beers in Kakaako.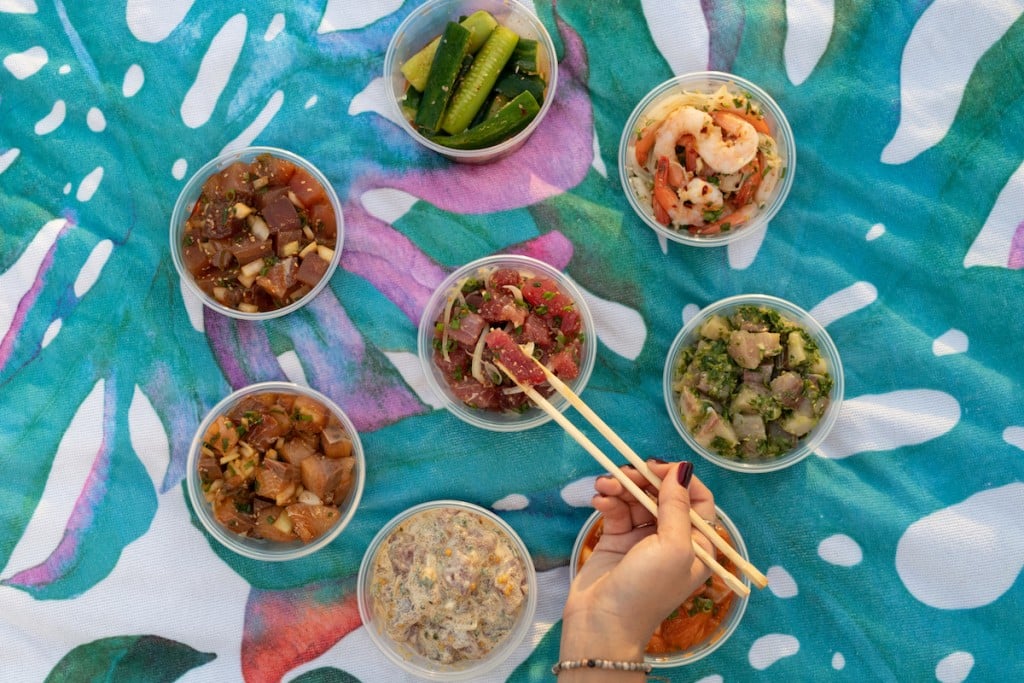 The color red can symbolize love and passion. But it's also the color of high-quality ahi (yellowfin tuna), which, let's face it, poke lovers are passionate about.
So Redfish Poke Bar by Foodland is the perfect name for the local grocery chain's newest venture: a poke counter and bar located at Salt at Our Kakaako on Oahu, which, starting Dec. 12, will serve never-frozen ahi poke and a whole lot more.
Poke is a Hawaiian dish that has received national attention in recent years, consisting of diced raw fish marinated in a host of seasonings and toppings. High-quality ahi poke, arguably the most popular variety in the Islands, is defined by its rich red color.
Stepping into Redfish, you're greeted by the sleek poke bar, where you can pick up a quick lunch or dinner on the way home. Two-dozen rotating varieties of poke made in-house are available by the pound, in three signature poke bowls or a customizable bowl. To customize your own creation, choose either a one-choice regular bowl ($11) or a two-choice deluxe bowl ($14), select your base of white rice, brown rice or salad, pick your poke and one side dish, then let loose with unlimited toppings. Upgrades such as cauliflower rice or poi (taro paste) are available for an additional charge ($2 to $3).
From classic flavors such as shoyu (soy sauce) and limu (seaweed), to innovative creations such as the ginger scallion hamachi (yellowtail) poke or beet poke—yes, beet!—you won't get bored with the array of choices.
In Hawaii, we love to socialize with friends and family after a long day of work. It's called pau hana, and this is a good place for it. Outfitted with intimate booth seating, a full-service bar and modern retro artwork, Redfish's cozy 36-seat restaurant and lounge offers a trendy yet relaxed atmosphere to unwind and to share a drink and meal.
In addition to craft cocktails prepared by corporate mixologist Matt Rosskopf and local beers, drafts, wine and sake, Redfish also serves nonalcoholic specialty drinks, such as the Li Hing Sher-Li ($6), combining white li hing (salty plum powder), strawberries and Coke.
The small and medium bites, plated for sharing, bring local ingredients and flavors to life. The B.A.A.L.T. sandwich ($16), made with bacon, seared ahi, avocado, local lettuce and tomatoes drizzled with a refreshing yuzu kosho (citrus pepper) aioli, puts a local spin on the traditional BLT.
Redfish ventures away from fish on the medium bites menu, which includes lechon kawali ($14), crispy pork belly with Vietnamese nuoc cham sauce and kalua (roasted) pig fried rice ($14), topped with a sunny-side egg. For dessert, indulge in the malasada bites ($8)—mini malasadas (Portuguese doughnuts) served with horchata ice cream.
Whether you want to make a quick stop for some poke, grab a drink and late night snack at the bar or enjoy a sit-down meal with loved ones, you can do it all at Redfish.
Redfish Poke Bar by Foodland, 685 Auahi St., Honolulu, Oahu. Poke counter is open daily from 10:30 a.m. to 8:30 p.m. Restaurant and lounge open from 10:30 a.m. to midnight Sunday through Wednesday; 10:30 a.m. to 2 a.m. Thursday through Saturday. redfishpoke.com.