Fourth of July at Kilauea's Volcano Village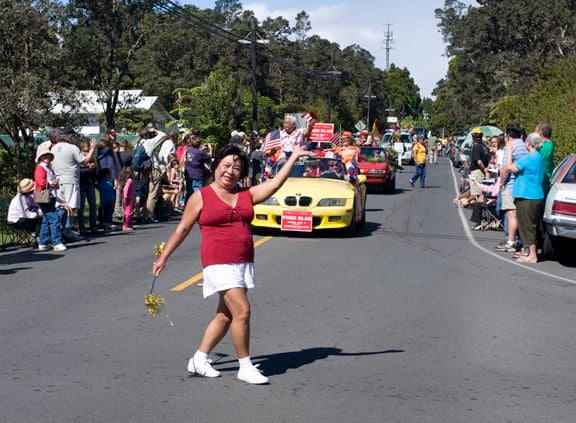 Before letting the Fourth of July go until next year, we couldn't resist sharing a report from our man on the slopes of Kilauea volcano, Bill Harby, on Independence Day celebrations at Volcano Village this weekend.
The 4th of July in Volcano Village is always a Hawaii-style hootenanny.
The main events are an annual parade and ho'olaulea (Hawaiian for "festival"). It's a hodgepodge of hula dancers, hippies, the local theater group, school kids, slobbering dogs, and—in election years—lots of beaming politicians.
The hopeful Hawaii County politicos were out in force this year with their assembled crowds, throwing candy to the crowd, swinging their signs like battle axes and chanting clever slogans. ("Don't be silly, vote for Billy!")
The Volkswagen "Peace Bus" was missing this year, as were the Volcano fencing club and the high-stepping horses with their synchronized pooper scooper patrol.
But even without the horses, the best part about Volcano Village's 4th of July parade, as always, were the animals. There were tongue-dragging dogs wearing lei. A charming goat named Annabelle—rescued from an ignominious fate you don't want to know about—trotted proudly.
We're not all sweetness. The parade also had a punk band playing so powerfully, it was hard to tell whether the people around their "float" were dancing or writhing in agony.
Either way it worked up an appetite. And at the Independence Day Volcano Village Festival folks noshed on mod-traditional American favorites as Thai yellow curry and monk's blend black tea.
By early afternoon people were drifting away, staring at their sunburned arms, wondering how bare skin could burn in cloudy Volcano Village.
It must be summer.