Free junior ranger program for kids at Kilauea volcano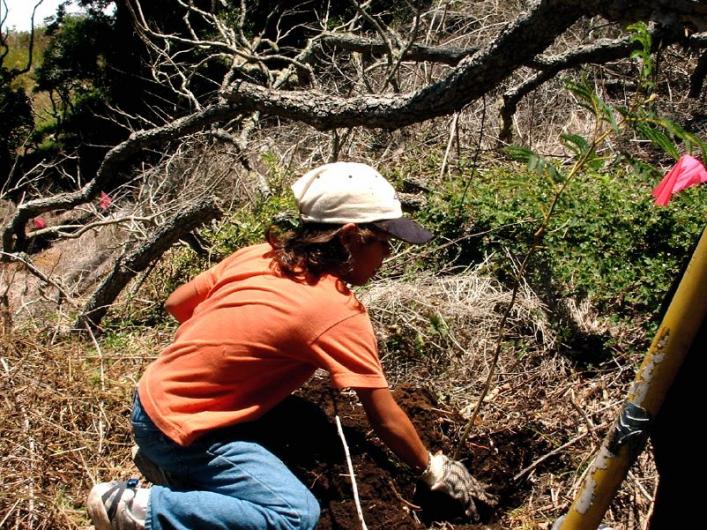 Hawaii Volcanoes National Park is looking for a few good junior rangers.
Qualifications? You'll need to be on the Big Island from June 16 through 19. You should love hiking, studying lava forms, following sea turtles, identifying native plants and birds and want to learn how to use a seriously cool GPS tracker. And—sorry, adult readers—your age will have to fall somewhere between 9 and 12.
Keiki O Hawaii Nei is a free junior ranger program guided by Hawaii Volcanoes National Park rangers. Think three-and-a-half-days of field trips exploring the park's substantial acreage of pristine Big Island environmental coolness and its relationship to Hawaiian culture and you get the idea.
"The whole idea behind Keiki O Hawaii Nei is to weave the culture and the sciences together, making it fun and exciting for kids," said park ranger and education specialist Joni Mae Makuakane-Jarrell. "The goal is to get them to love the park and take ownership so they can become rangers or leaders in their own community and, hopefully, make a difference."
Keiki o Hawaii nei is Hawaiian for "children of beloved Hawaii."
The annual program is open to the first 24 kids that sign up. All that's required of parents is dropping their kids off at park headquarters each morning with a bag lunch, and then picking them up in the afternoon. Makuakane-Jarrell (that's her in the pic below) and the rangers take care of the rest.
Here's a peek at this year's itinerary:
DAY 1
A morning hike exploring the cultural uses of native plants at Kipukapuaulu—a forest oasis of rare endemic plants surrounded by Mauna Loa lava flows. An afternoon visit to Keauhou Bird Conservation Center, a San Diego Zoo-managed sanctuary for native Hawaiian birds.
DAY 2
A full day exploring Kahuku Ranch, using GPS (global positioning system) technology. The forest-filled 116,000-acre ranch is on Mauna Loa's southwest flank.
DAY 3
Keeping tabs on the sea turtle population at Kaloko-Honokohau National Historical Park on the Kailua-Kona coast.
DAY 4
A half-day hike exploring lava formations at Mauna Ulu—a small flank volcano formed near Kilauea's summit during a 1969-1974 eruption.
Kids participating all four days get a Hawaii Volcanoes National Park junior ranger badge and certificate, a compass and other cool stuff.
"In the last five years, we've never done the same itinerary twice for Keiki O Hawaii Nei," said Makuakane-Jarrell. "With 333,000 acres of park, we never have to take our kids to the same places."
For more information or to sign your child up, call Hawaii Volcanoes National Park education center at (808) 985-6019.