Friends of Hawaii Volcanoes National Park offering hikes, forest restoration project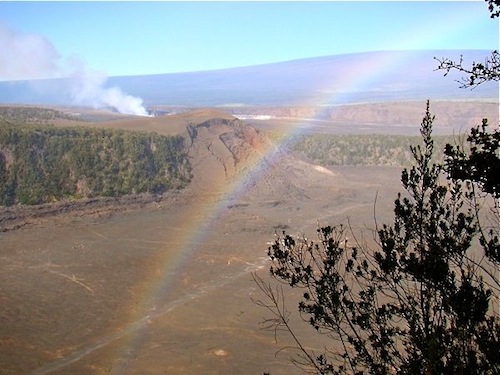 This month, the lineup events organized by Friends of Hawaii Volcanoes National Park includes a guided five-mile group hike along Kilauea Iki Trail, which crosses a still-steaming volcanic crater floor, and other trails. Plus, the nonprofit will stage its next volunteer forest restoration project in an area of native ohia forest.
• Exploring Kilauea Iki Trail, Na Huku (Thurston Lava Tube), Escape Road, Crater Rim & Byron Ledge trails — the latest installment of the Friends of Hawaii Volcanoes "Sunday Walk in the Park" program, 10:30 a.m. to 1:30 p.m. this Sunday (June 9). The program features monthly (second Sunday) guided hikes on Hawaii Volcanoes National Park trails. The hike will be led by Nick Shema, a member of the Friends of Hawaii Volcanoes' board of directors. The Sunday Walk in the Park program is free for Friends members. Non-members are welcome to join the non-profit organization in order to attend. Annual memberships are $30 for individuals and $45 for families, and come with a variety of benefits. For more information, click here.
• Forest Restoration Project, volunteer session — Volunteers will be working on Sat., June 15, 8:30 a.m. to 1 p.m., in an area of ohia forest grappling with invasive Kahili ginger. Volunteers will be cutting the ginger back so it can be treated by the park's weed management crew. The volunteers will learn about the park's forest restoration efforts from a member of their Natural Resources Management team. Volunteers should be at least 12 years old, and be able to walk up to half-mile over uneven terrain with a moderate slope. Sturdy walking shoes and long pants are required, along with gear for variable weather conditions (be prepared for sun or rain with a hat, raincoat, sunscreen, etc.) plus drinking water and a snack. For more information about volunteering, click here.
Additional Forest Restoration Project work dates are set for (Fri.) July 19, (Sat.) Aug. 24, (Sat.) Sept. 28, (Fri.) Oct. 18, and (Fri.) Nov. 15.
Hawaii Volcanoes — a World Heritage site — endeavors to protect a wide diversity of ecosystems and habitat for native Hawaiian plants and animals. Despite their protected status, native species face threats ranging from invasive plants and introduced animals to wildfires.
For additional information about Friends of Hawaii Volcanoes National Park, which provides the park with volunteer support and stewardship aimed at enhancing visitor educational and interpretive experiences, click here. Click here for more information about Hawaii Volcanoes National Park.