From Comfort Food to Fine Dining, Preserve Kitchen's New Menu Shines
Travaasa Hana newcomer chef James Watts makes a splash with a robust, often local Maui-sourced dinner menu that satisfies.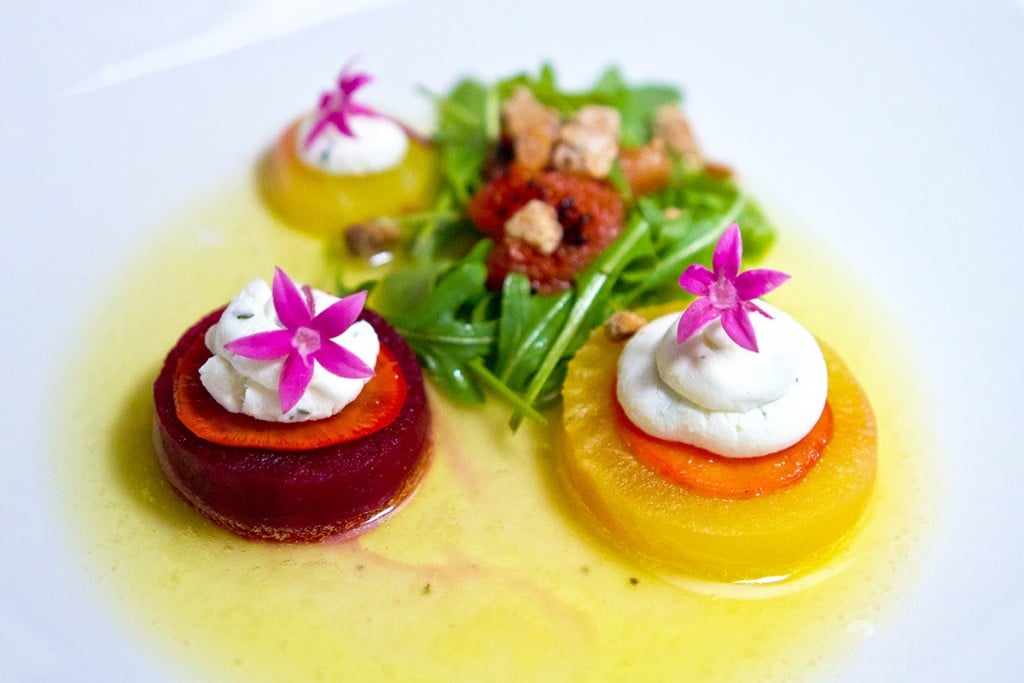 Make the long and winding drive to Hana or fly in from Kahului on a tiny Mokulele plane and you'll find Travaasa Hana waiting for you at the end of your journey. Likely, you'll be hungry when you get there. As much a community mainstay as it is a resort, Travaasa hovers just on the edge of the untamed, a comfortable sanctuary on the wild and beautiful Hana Coast, but with just enough rawness around the edges to remind you of how far you've come, and that you're in a different world now.
It is in this lush little corner of the world that Travaasa's new executive chef James Watts has recently landed, by way of a journey that's taken him from the award-winning Swag Country Inn at Waynesville, North Carolina to the kitchens of the renowned Andaz Maui at Wailea Resort to New Zealand and Australia, where he was chef de cuisine at Sal Salis Resort, a 5-star eco-resort and beachside lodge nestled in the remote dunes of Ningaloo Reef, a World Heritage site on the West Australian coast.
While being a world traveler isn't a prerequisite for being an exceptional chef, it certainly can help, and the spirit of adventure is apparent in Watts' multinational new menu, which runs the gamut from crunchy, expertly spiced locally grown pohole (Hawaiian fiddle fern) salad to a unique twist on Southern-style fried chicken and cornbread to the Middle Eastern farro tabbouleh.
It's the little twists he adds, the delicate balance of simple, wholesome ingredients and a sophisticated touch that make so many items on Watts' new dinner menu, which launch in late March, shine.
His chicken and cornbread, for example, takes the Southern staple and elevates it, with a drizzle of tangy, sweet calamansi sauce over buttermilk fried chicken that's perfectly crusted on the outside, tender inside. (Calamansi is a small citrus native to the Philippines.) A sprinkle of crunchy toasted almonds and light, moist cornbread adds a sweet nuttiness to what's already one of our favorite dishes.
Highly recommended is the roasted beet salad, a harmonious marriage of sweet and savory, with contrasting textures and a colorful presentation. The herbed goat cheese and pickled radish atop every beet slice make each bite explode with flavor, while the accompanying arugula with its grapefruit and candied macadamia nut garnish add a refreshing counterpoint of peppery, sweet and tart.
Fish dishes really shine here as well, with the tart mahi coconut ceviche tossed in kefir lime-coconut cream providing an enticing introduction to the meal, and the furikake-crusted ahi with baby bok choy and wasabi-watercress crème over nutty black rice seared to melt-in-your-mouth perfection.
One standout surprise of the evening was Watts' unique tom kha (Thai coconut) ice cream, which outshone its accompanying peanut butter and banana lumpia dessert with a kick of cayenne, lime and lemongrass that perfectly captures the traditional Vietnamese flavor. If ever the chef decided to focus on frozen treats, they'd surely be in high demand.
Dinner isn't the only great offering at Preserve Kitchen. Let's not forget the new brunch menu, out now and impressive in its range of options, from light and healthy fresh papaya to a hearty, carb-laden tower of a loco moco.
No matter what meal you come for, though, the new menu offerings at Travaasa Hana will be a satisfying and cultured complement to—and perhaps a highlight of—your journey to Maui's wild side.
Preserve Kitchen + Bar at Travaasa Hana
Brunch: 7:30 a.m. to 2 p.m., dinner: 5 to 9 p.m. Dishes mentioned will be launched in late March.
5031 Hana Highway, Hana, Maui
(808) 359-2401
 travaasa.com/hana