Geologists capture clearest video yet of Kilauea volcano lava lake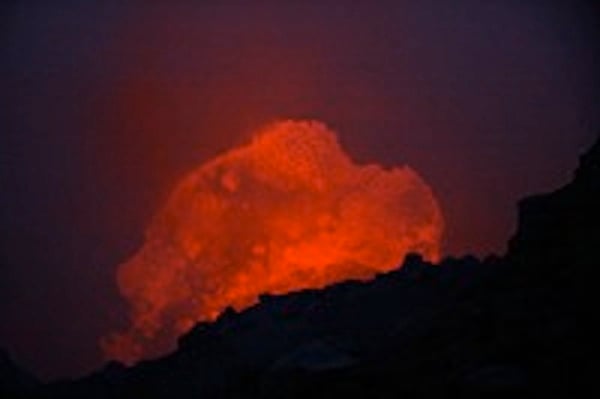 Geologists at the Hawaiian Volcano Observatory this week released some of the clearest video footage yet captured of lava activity within Kilauea volcano's Halemaumau crater vent.
Since opening in March 2008, the summit vent has sent out a thick plume of steam and ash into the skies over the Big Island of Hawaii volcano. Six months later, HVO geologists on a daily flyover of the vent captured this video of a lava lake roiling below the Halemaumau crater floor.
Similarly clear footage of lava activity within the vent has been scarce ever since.
But the new videos below—shot by HVO on June 3 and 4 as the plume recently assumed a less dense, slightly wispy character—offer some of the clearest, most measurable detail yet seen of the lava's behavior within the vent. The footage shows molten lava emerging about 300 feet below the vent opening, the direction and speed of lava movement, and the character of that movement (waves, bursts, spattering, etc.).
Lava activity within the Halemaumau vent is not visible from the Kilauea caldera and Halemaumau crater overlook at Hawaii Volcanoes National Park's Thomas A. Jaggar museum. But theres' still a great deal to see—especially at night. HVO geologists have characterized this week's evening incandescence from the vent as the most luminous they've seen since last fall—mostly due to the slight dissipation of the plume and shallower than normal depth of lava activity below the crater surface.
If you're on the Big Island and want to head over to Hawaii Volcanoes National Park in the evening, the Jaggar museum is keeping later hours for the time being. The museum is open until 8 p.m.; the overlook is open 24 hours daily.
HawaiiMagazine.com has reported regularly on lava activity at Kilauea volcano and Hawaii Volcanoes National Park. Click here to catch up with all of our Volcano News posts. Click here to follow our updates on Twitter, and here to follow our updates on Facebook.
Click on the frames below for United States Geological Survey video of June 3rd and 4th activity: