Get Authentic Italian Fare and New-School Ice Cream from These Hidden Waikīkī Spots
Piccola Onda and Double Fat Ice Cream aren't easy to find, but trust us, you'll want to.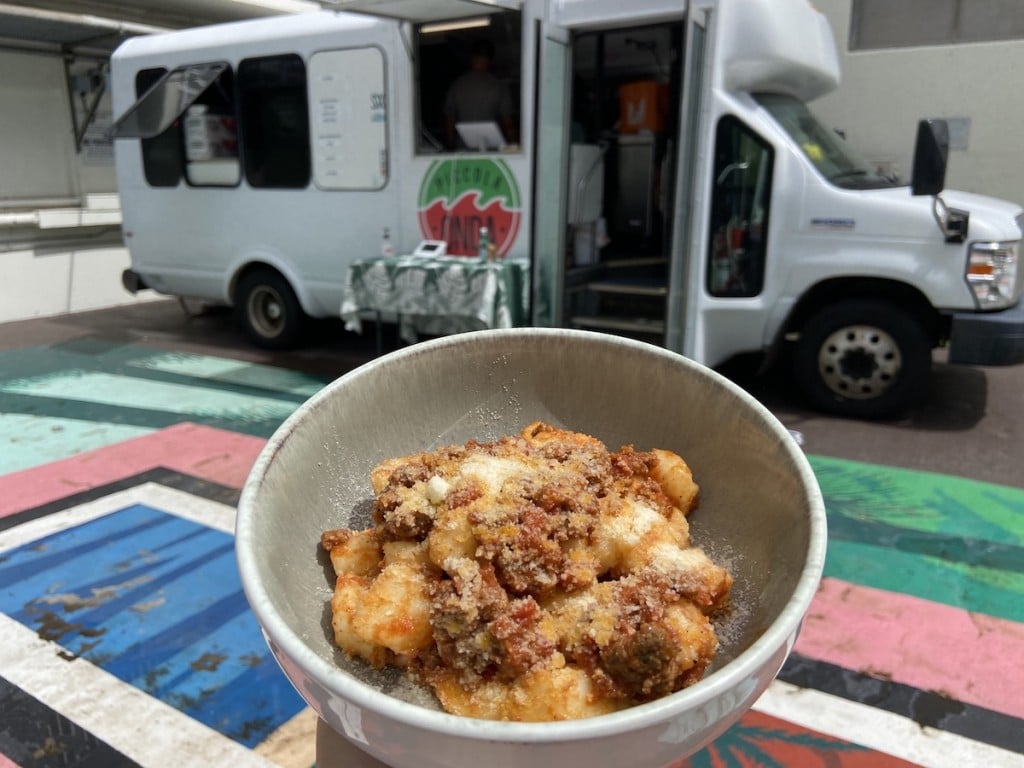 I spend a lot of time in Waikīkī, and I usually know what's new here before anyone else.
Except this time.
I walked down a side street—Kealohilani Avenue, to be specific, which connects Kalākaua and Kūhiō avenues—and noticed a food truck parked against the backside of the ʻAlohilani Resort Waikīkī Beach.
There was no one around. I assumed it was an old truck, closed and parked here, a victim of the COVID-19 pandemic.
Then I spied on my Instagram a couple of influencers had already posted about it.
Indeed, it was a new truck. Actually, there are two food gems hidden here, up a ramp on the side of the hotel. You'd never know they were there—but trust us, you'll be happy you found them.
The first—the white truck I saw—is Piccola Onda, a certified commercial kitchen on wheels run by Andrea Onetti. Originally from Rome, Onetti launched Onda Pasta years ago, satisfying Hawaiʻi foodies with authentic house-made pasta. After a hiatus, he returned to the Islands, serving his craveable dishes at local farmers markets—and now, a food truck in Waikīkī. He opened in late February.
Onetti manages to fuse traditional Italian fare—many of his recipes are passed down through his family—with local ingredients and flavors. Some standouts include the zozzone, a ciabatta sandwich with an Italian sausage patty made from local pork, roasted sweet peppers, melty mozzarella and fresh greens; gnocchi ragu bolognese, the sauce cooked for 12 hours and packed with local beef and pork; and Andrea's lasagna, with local eggplant and Italian sausage.
While Piccolo Onda serves panna cotta—and if you love this chilled cream dessert, by all means, order it—we suggest dessert at the kiosk next door.
Double Fat Ice Cream is the brainchild of Brandon Lee, who has made a name for himself in the kitchens of two of Oʻahu's most popular restaurants (Piggy Smalls and MW Restaurant, to be exact). While at Artizen by MW in Downtown Honolulu, he launched an ice cream business; it was shut down because of the pandemic.
Good for us, he's back—this time in a kiosk next to Piccolo Onda. His house-churned ice cream is silky and smooth, in flavors like Kona coffee, chocolate, sweet cream and strawberry. He also serves lilikoʻi (passionfruit) and guava sorbet, and some unusual flavors like yuzu creamsicle and honey furikake (a Japanese condiment, often sprinkled on rice and made of dried fish, sesame seeds, chopped seaweed, sugar and salt.)
View this post on Instagram
Get a scoop ($5 for a single, $7 for a double) or a sundae. We recommend the Crack Seed Delight, a strangely delicious combination of strawberry and sweet cream ice creams topped with sweetened condensed milk, li hing powder, mochi crunch, pieces of dried salted plum and dairy-free whipped cream. It's like all my favorite flavors from childhood in a single cup.
Now I have two more reasons to hang out in Waikīkī. (As if I needed any more!)
On Kealohilani Avenue, behind the ʻAlohilani Resort Waikīkī Beach, Waikīkī. Validated parking at the hotel for up to two hours.