Get Grilling With This New Hawaiʻi Cookbook
ʻThe ʻOhana Grill Cookbook' features 50 Hawaiʻi-inspired recipes for your grill, from guava chicken to adobo pork belly bao.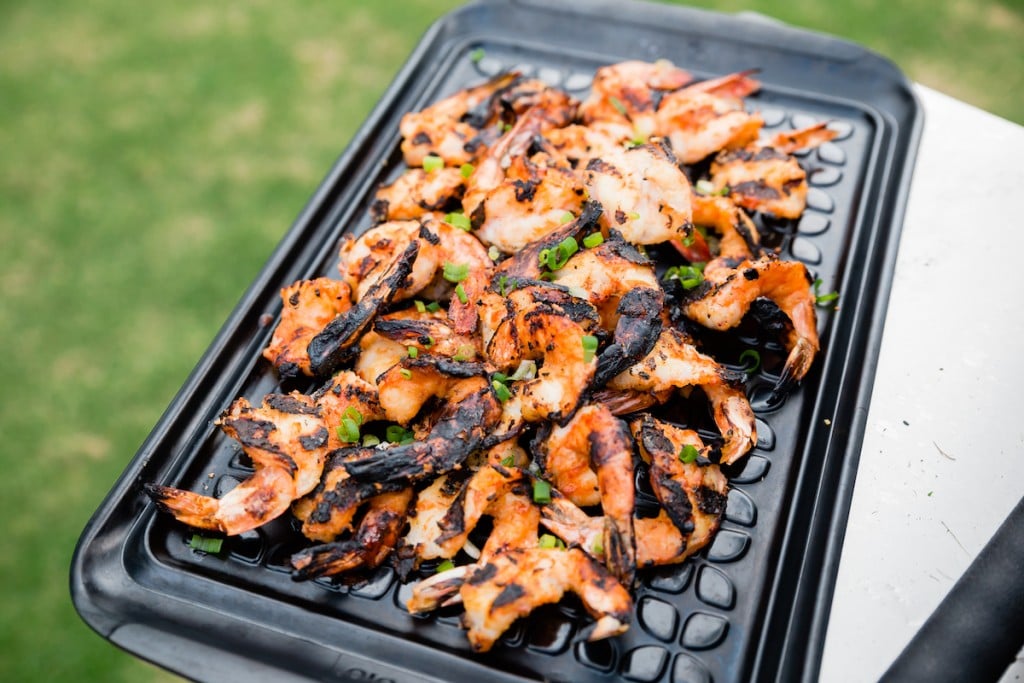 Before researching for this cookbook, author Adrienne Robillard was more of a camping griller—hot dogs, hamburgers, the usual backyard fare. (She's not a fan of lighting a grill.)
But when she set out to write "The ʻOhana Grill Cookbook: Easy and Delicious Hawaiʻi-Inspired Recipes from BBQ Chicken to Kalbi Short Ribs" (Ulysses Press, 2020), she was forced to expand her repertoire to include mahimahi, pineapple chicken, sweet-and-sour salmon and grilled cheese on Punaluʻu Bake Shop sweet bread.
"[Grilling] was always something I wanted to explore," says Robillard, who grew up in Kailua on Oʻahu. "I love the smell of barbecue and, in a perfect world, that smell is coming from my backyard … I love to grill, in general, because of the simplicity and grilling doesn't make as many dirty dishes as stovetop cooking. An added appeal to grilling is that you can just about grill anything, even bread and tofu."
The 114-page book, released in September with photography by Dawn Sakamoto Paiva, features 50 easy and ʻono (delicious) recipes that range from classic local fare—grilled Spam musubi, shoyu hot dogs, kalbi short ribs—to veggies, fish, salads and even desserts. (We particularly love the spicy li hing mui pineapple. So simple and tasty!)
The book also includes recipes for side dishes—mac salad, fried noodles—that go perfectly with the entrées and drinks—yes, drinks!—like guava punch and plantation iced tea.
Robillard, who teaches English at Windward Community College, spent months researching recipes for the grill, adapting ones from Hawaiʻi families, food writers and a bunch of old, spiral-bound cookbooks she found at the Kailua Public Library. "The local cookbook section at the Kailua library is near the enormous DVD section," says the mother of two, "which both my kids love because you can pull a DVD out like a wildcard. So while they kept themselves occupied planning family movie nights, I'd find cookbooks to check out."
Some are from her own family recipe box: The recipes for teriyaki sticks and teri burgers are from her brother and his partner, and others have roots in what her Chinese grandmother taught her over the years. (She passed away in 2019, just when she was working on the cookbook.)
There were some obvious inclusions in this cookbook, particular the section on shrimp. (I mean, who doesn't love garlic shrimp cooked on a grill?) "I love to grill shrimp because they're fast and easy and it's obvious when they're done," Robillard says.
After grilling for months, Robillard has not only mastered lighting the grill, she has a few more go-to recipes in her arsenal. She regularly makes the curry chicken barbecue, ti leaf shrimp, spicy miso shrimp, shishito peppers and soy-ginger salmon. (These are all in the cookbook.)
Anything that didn't make the cookbook?
"There was a purple cabbage with sweet-and-sour sauce that was intriguing as a possible side dish, but it came out plain weird," she says. "There was some discussion about grilling a ʻnon-Hawaiian' pizza, but that didn't make the cut."