Get Specialty Coffee and Desserts at This New Hilo Bakery
The family-run Popover Bakery & Café bakes up doughnuts, flatbreads and, yes, popovers.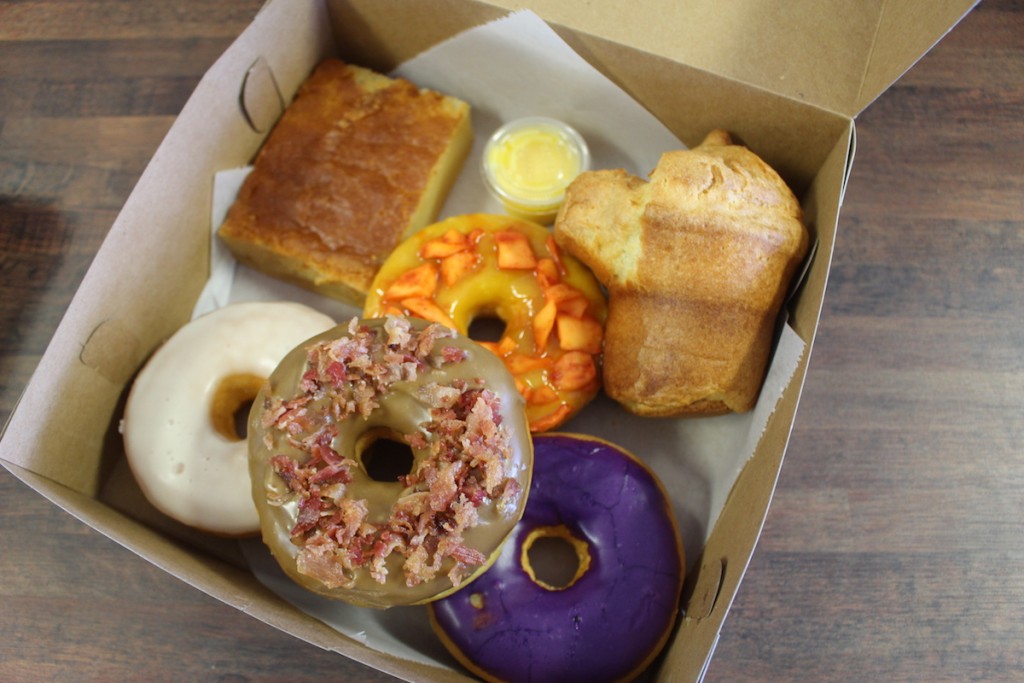 When a foodie friend of mine found out I was traveling to Hilo for the day earlier this month, she had one suggestion: Visit Popover, a new bakery about five minutes from Hilo International Airport.
I admit, I had to Google it.
The bakery had opened two weeks earlier—and already had about 1,000 followers on Instagram. When I mentioned it to a few other Honolulu foodaphiles, they had already heard about the place and had it on their must-do Hilo itineraries.
So, of course, it was the first place my husband and I stopped before starting our big day in the island's small town.
Popover Bakery & Café is the brainchild of William "Chuco" Townsend, whom I first met years ago working for Street Grindz, an event planning company best known for its popular Eat The Street food truck rallies on Oahu. Townsend, who attended the culinary school at Kapiolani Community College and worked in various kitchens over the years, decided to move to Hilo three years ago to help his family run their 3-acre farm. (They raise goats, chickens, rabbits and ducks and grow vanilla, anthuriums, orchids and fruits and veggies.) He originally wanted to open a specialty coffee shop, focusing on high-quality Hawaiʻi-grown coffees.
Then he got another idea—and he credits Alton Brown, the quirky creator and host of the Food Network's "Good Eats," for the inspiration to open the bakery.
Sometime during the show's second season, Townsend recalls, Brown discussed the proper way to make popovers, the light and fluffy roll made with the same batter as Yorkshire pudding. (Instead, you use butter instead of beef drippings, which isn't a bad swap.) He wanted his bakery to have a singular focus, and this would be it.
"You either have a cherished memory of popovers or it's something you've never had before," he says. "It's either a classic or something new."
And either way, he adds, it would draw you in.
It worked for me, that's for sure.
As soon as I walked into the bakery, I was immediately drawn to the welcoming basket of warm popovers, made every morning at the bakery. The rolls are also used as the bread for the bakery's sandwiches, filled with roasted veggies or sliced turkey breast and avocado. The plain popovers, which have a nice crisp on the outside but tender and custard-y inside, are best with the house-made lilikoi butter. Sometimes Townsends plays with the batter, adding in other ingredients; jalapeño and cheddar is popular variation.
View this post on Instagram
"My favorite thing about popovers is probably their flexibility," Townsend says. "They're a blank slate, ready for your imagination to decide the next step. Delicious on their own but with a little variation can be so much more … Getting them to puff up and stay puffed is a feat in itself, but like a good soufflé, it's well worth the effort."
But that's not all the bakery sells.
There are coffee cakes, cinnamon rolls, croissants, cheesecakes, cookies and doughnuts—a lot of doughnuts. On any given day, there are about eight different flavors, ranging from classic chocolate to the vibrant purple ube (Filipino sweet potato) to—my personal favorite—a maple-glazed doughnut with real bacon crumbled on top.
The café menu has a nice selection of house-made flatbreads ($15 to $18 each and shareable) and popover sandwiches ($8), too. The most popular flatbread is the Hamakua ($18), with pesto, spinach, garlic and alii mushrooms grown on Hawaii Island. And, of course, there's coffee, from classic café offerings (Americano, latte, cappuccino) to hand-poured locally grown and roasted Hawaiian varieties.
"All of our recipes are trial-and-error or variations of recipes we already have at home," says Townsend, who runs the bakery with his mom, cousin and aunty. "Working with new ovens, always presents a challenge when dialing in your time, temperature and methodology. But with a little bit of time, we managed to work out the kinks and put together what I feel are some pretty tasty offerings."
The bakers are always experimenting with popovers, trying out new flavors and fillings. (A dessert version, stuffed with ice cream, is in the works.) And other Hilo restaurants have inquired about buying the bakery's breads, rolls and dough, so Townsend is considering expanding the business into wholesale.
The one hope for Popover, though? That Alton Brown stops by.
"I'm not one to get starstruck," says Townsend, who has been a fan of Brown for at least 20 years. "But if he walked in here, I might die. I literally might pass out."
399 E. Kawili St., Hilo, Hawaiʻi Island, (808) 935-7874, popoverhi.com