Give back to Kauai at RumFire Poipu by booking a reservation at Table 53
Have a great dinner, plus benefit the community, at Sheraton Kauai Resort's restaurant, RumFire Poipu.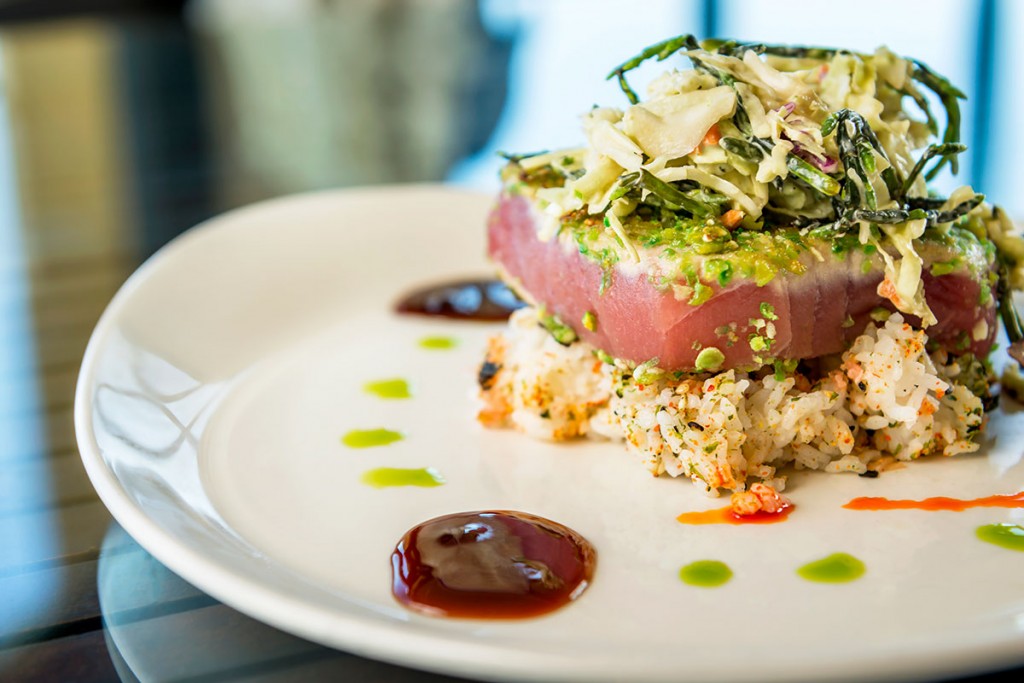 When it comes to a romantic dinner with unobstructed ocean views, RumFire Poipu is hard to beat. For those of you familiar with RumFire Waikiki, the RumFire in Poipu is not the same: the menus are different, the hours are different and there's no nightclub scene here. Located in the Sheraton Kauai Resort, the Poipu restaurant's 240 seats offer 270-degree ocean views.
As the name implies, the restaurant and bar is known for its rum cocktails, such as the RumFire mango mojito, a frozen blended cocktail with Cruzan Aged Light Rum, mango puree, lime sour and mint. Tasty pupu (appetizers) include the fried Brussels sprouts with Portuguese sausage and spiced macadamia nuts, and, for entrees, a favorite is the wasabi pea crusted ahi served with sea asparagus and pear slaw, firecracker rice and chili soy reduction.
"We get inspiration from playing around the island, dining at local restaurants and visiting farmers at the markets and their fields," says executive chef Michael Young, who works with chefs Tanner Stoen and Gabriel Balenzuela to create the menu. "We work together to create meals that are a mix of our personalities and experiences around the world but really focused through the lens of Kauai."
RumFire Poipu also makes it easy to help the community, if you book a reservation at the restaurant's table number 53. It's a private booth that seats four and overlooks the restaurant's courtyard, fire pits and the ocean. The Table 53 program was started in 2012 to enable diners to give back. When you eat at that table, all net proceeds from your dinner directly benefit a Kauai organization. Past nonprofits have included cultural, health, educational, environmental, veteran organizations and more. Just last month, the program reached a major milestone: It raised more than $200,000 for Kauai-based organizations. Each month, RumFire partners with a different organization.
With great food, awesome views and the chance to give back, RumFire Poipu is a win-win option.
Open for dinner from 5:30 to 9 p.m.; bar is open from 5:30 to 10 p.m. To participate in Table 53, call RumFire at (808) 742-4786 to make a reservation. The table is available on a first come, first serve basis. 2440 Hoonani Rd., Koloa, Kauai, rumfirekauai.com.