Going Coast to Coast on the Paradise Express
Touring Oahu only requires $5 and a little bit of patience.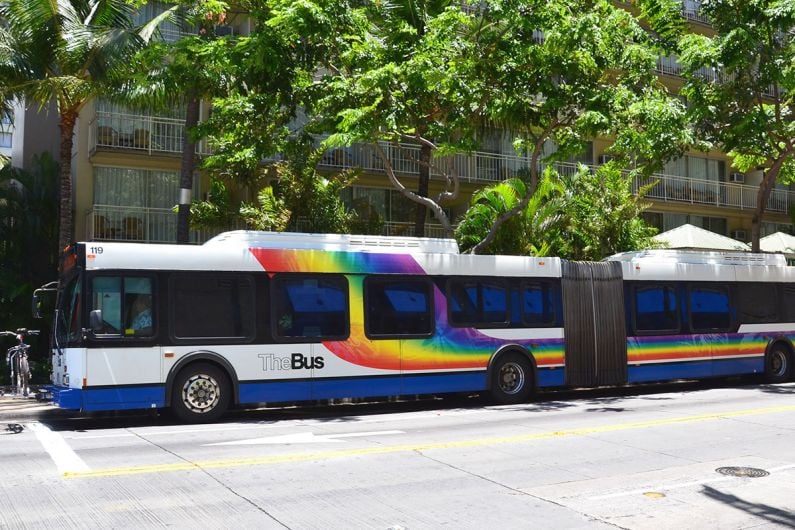 Growing up on Oahu's North Shore, TheBus was pretty much my only way of getting around before obtaining my learner's permit. I'd catch it to school, to work at my first job, Matsumoto Shave Ice, to the beach and even into Honolulu, which took over two hours one way. But when I got my first car in 2011, a hand-me-down Ford Ranger, TheBus soon became a bittersweet memory of days when I didn't have to worry about gas or parking or how my safety inspection expired three months ago. Now, eight years later, curious about Oahu's public transportation system—which touts its affordability, convenience and extensive system of routes that can take you just about anywhere on the island—I park at Ala Moana Center and catch the No. 60 bus, which leads you on an epic two-hour journey along the Pali Highway, up the coast of Oahu's east side and to the North Shore. I want to experience the round-island route for myself and see if the $5 all-day bus pass is really worthwhile.
Well, I've been riding for almost half an hour and I can say that TheBus could have charged me double and I'd still be happy. After heading through some of the more urban areas of Honolulu—Kakaako, Downtown, Nuuanu, all of which I was able to ignore entirely by keeping my nose in an enticing crime novel—we're now shuttling up Likelike Highway, and the views are becoming greener by the mile. For those unaware of Oahu's geography, the Koolau Range acts as a natural border between Honolulu and the Windward Side; however Likelike Highway, as well as the Pali Highway (which has been closed due to mudslides), literally takes you through the mountains by way of tunnels and cliffside roads. While this can be a nerve-wracking drive for first-timers, I don't have anything to worry about. Sitting in the back corner of the bus, I can enjoy the views knowing full well that my experienced bus driver will keep us safe, since he's probably driven these roads more times than I've driven any road ever.
As we continue through the residential roads of Kaneohe, I hop off a block away from Fresh Catch Kaneohe to grab a bite to eat. As a commuter who deals with the daily vehicular kludge that is Downtown Honolulu, it's nice not to think about parking for once. Instead, I'm thinking about what to order. Fresh Catch Kaneohe caught my attention with its menu full of local comfort foods—my favorite—and I'm split between the garlic chicken and poke fried rice. I choose the latter and eat at the bus stop, waiting 20 minutes for another No. 60 bus to arrive.
Back on the bus, I listen to an elderly man chat with a German couple. Apparently, he himself was a bus driver and enjoys spending his retirement going down the same route he worked day after day. And I can't blame him, as the No. 60 bus route goes coastal after Kaneohe and light blue seas fill my passenger window. The elderly gentleman points out landmarks like a seasoned pro—apparently he used to drive tour buses as well—and I follow along as he identifies many of East Oahu's offshore islets, including Mokolii and Manana islands. As we proceed toward Kahuku, I spot beaches and sandy getaways that I've never seen before, which makes sense. It's hard to look for hidden beaches when you've got your eyes on the road.
Pulling into Haleiwa, I disembark from the bus once more, this time to catch up with my mom who works in the Haleiwa Marketplace and regale her with tales from my half-day bus adventure. Fortunately, the bus stop is just across the street, and after grabbing a quick lunch at Kono's, known for its breakfast burritos and ono (delicious) kalua pig, I plan my reentry into town. The No. 55 bus will take me out of Haleiwa the same way I came in—a route I highly recommend—on the return trip all the way back to Ala Moana Center. The journey back will take two hours as well, but it's all good. I've got half a book to finish, and when I'm tired of reading, I can stare out the window or take a nap and let TheBus do the rest.