Gordon Ramsay Visited This Beloved Maui Banana Bread Stand
"Banana bread that makes you curse—it's that good," the celebrity chef said.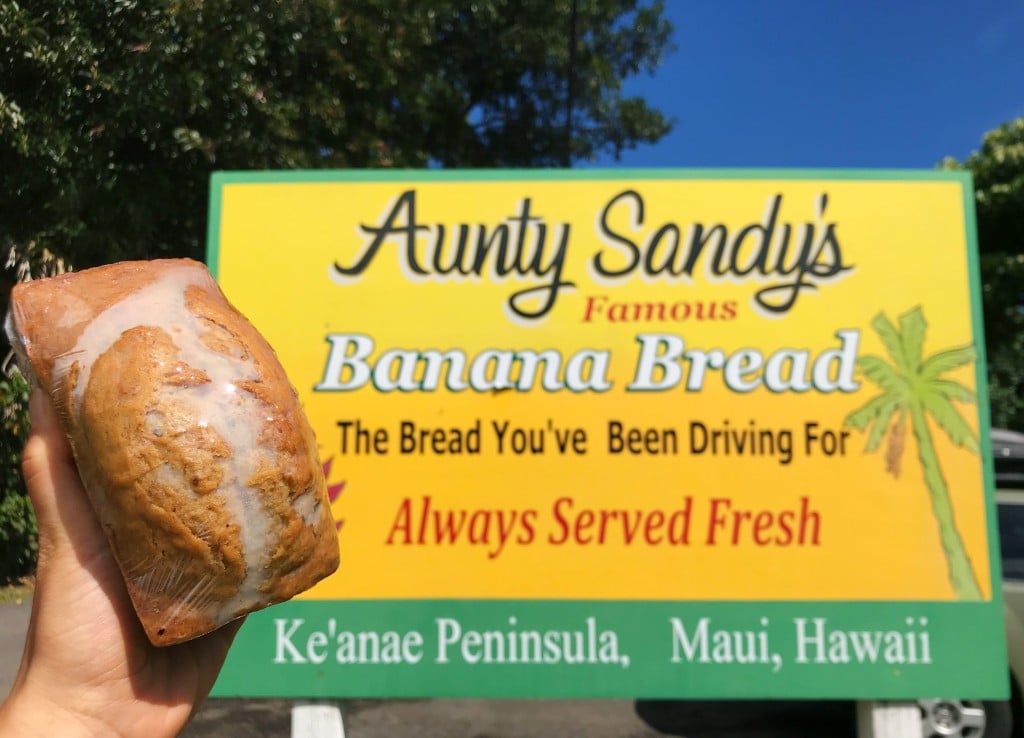 What better way to celebrate one of Maui's many marvels than on Feb. 23, National Banana Bread Day. The best loaves are often found at quaint farm and fruit stands in the island's countryside. Typically, these breads are baked from scratch with locally grown apple bananas and made following instructions from heavily guarded family recipes. 
The charming farmstand on the Keʻanae Pennisula known as Aunty Sandy's Banana Bread is synonymous with these sweet loaves. Every morning, hot bread comes fresh out of the oven and is ready to melt in your mouth.
View this post on Instagram
It's Aunty Sandy's recipe that makes her farmstand not only a road to Hāna landmark, but a destination for culinary enthusiasts—including the notorious Gordon Ramsay.
While scouring the most unique and remote locations for culinary inspiration and cultural experiences in National Geographic's "Gordon Ramsay: Uncharted," the globetrotting chef was lured to the Keʻanae Peninsula. Undeterred by treacherous weather, he trekked to Aunty Sandy's to taste her famed banana bread in an episode that premiered in 2019. In the snippet shared to YouTube this February, Ramsay quipped, "I can't wait to see what all the fuss is about."  
However, the infamous chef was almost denied a sample of the the bread. Aunty Sandy's daughter, Tammy, says he's too mean to taste their family recipe. After a few laughs, Tammy and her mom relent and teach the chef how to make their fluffy, cake-like bread. Impressively, there are no measuring cups in sight when it comes to portioning out the dough in loaf tins, a testament to the duo's years of experience. Once Ramsay finally bites into the warm, moist bread, his reaction is accompanied by bits of profane language. He apologizes and said, "Banana bread that makes you curse—it's that good." 
Aunty Sandy Hueu began baking her delicious banana bread back in 1983. Twenty years later in 2003, her daughter Tammy joined the baking venture to establish the family-operated food stand in Keʻanae. With nearly four decades of banana bread expertise, Aunty Sandy's stand has become a must-stop destination among residents and visitors on the journey to Hāna. 
 210 Keʻanae Rd., Keʻanae, (808) 248-7448, auntysandys.com