Gourmet comfort food at Koa Table from a 'Food Network' star
Located at the former Three Fat Pigs at the Kings' Shops, chef Ippy Aiona brings family-style dining to Waikoloa.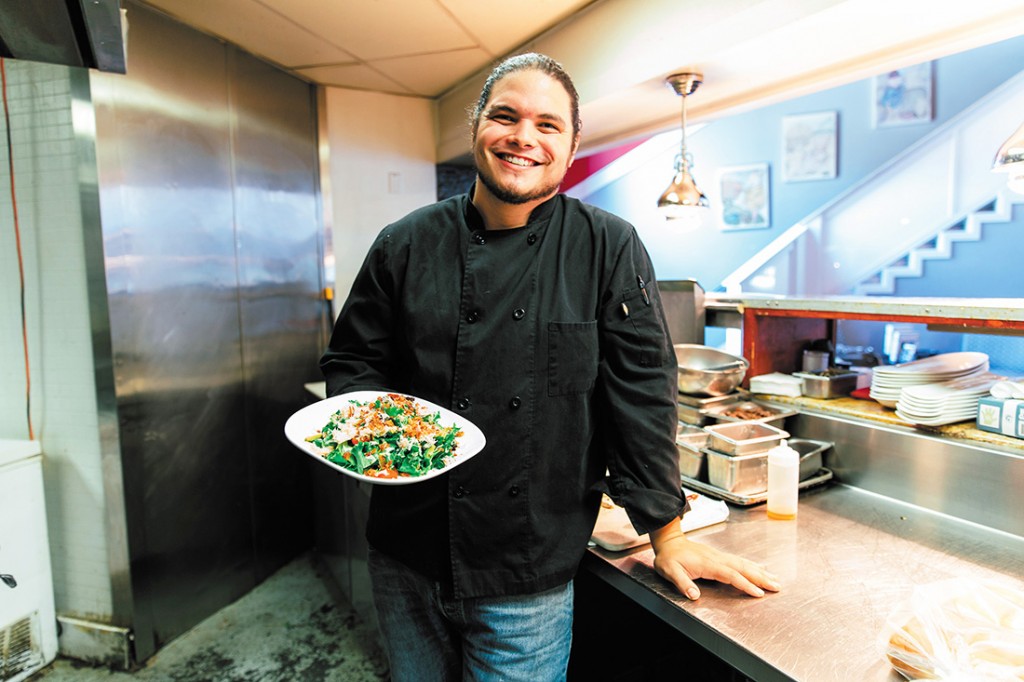 *Editor's note: Koa Table has closed as of April 2018.
Philip "Ippy" Aiona was raised in a foodie household. His Hawaiian father had a local plate lunch joint in Waimea and his mother had an Italian restaurant in Waikoloa. It was common to find a young Aiona doing homework at an empty table in one of his parent's restaurants, or even helping out himself.
"I grew up seeing my family working hard," Aiona says. "As a kid you always want to do what your parents do, especially if it's something cool like a chef."
So that's exactly what Aiona did. The Hawaii Island native went to Le Cordon Bleu in San Francisco, his years of experience in his parents' kitchen aiding him. Aiona's skills and his laid-back personality even landed him a spot as a contestant on "Food Network Star" in 2012 and first place in the international Iron Chef competition in Toronto the following year. "The exposure itself was priceless," he says. "It was easier for me to approach people, and have people trust and believe in my skills."
It's no wonder then that the recently opened Koa Table is the 28-year-old's third restaurant. Located in Kings' Shops at the Waikoloa Resort, the location might seem familiar–it's in the same spot as Aiona's former restaurant, Three Fat Pigs.
But, says Aiona, "We renovated the whole place." The restaurant's walls were repainted, the bar was rebuilt and the tables and lighting fixtures were replaced. The staircase near the restaurant's front entrance features photos of Aiona's family. "Some chefs put up celebrities, but I wanted to put up what was important to me, which is my family."
Family is also why Aiona chose the name Koa Table. It symbolizes the gathering of family and friends to share a meal, and for the Aionas, it was at a large koa table. "My dad and mom worked in restaurants so family meals together were rare," he says. "But when we did gather it was at that table and it was a big deal. I want Koa Table to be like you're eating those family comfort foods." Aiona even had a replica of the family table built for the restaurant.
Koa Table's menu features the foods of Aiona's culinary upbringing. Inspired by his Hawaii roots and his dad's plate lunch influences, there are local favorites such as traditional saimin, cooked with fresh Hilo-made noodles, yakitori chicken, kamaboko, green onion, char siu and Spam, whole fried fish with Hawaiian chili pepper sauce and loco moco served with Niihau lamb instead of hamburger patty. But Koa Table's menu wouldn't be complete without a dedication to his favorite Italian dishes, labeled as "From Mom's Kitchen," such as the ziti al forno with marinara, fresh ricotta and romano, or Aiona's favorite, the carbonara, pancetta, garlic, wine, pecorino romano and red pepper flakes in a creamy egg sauce.
Koa Table is a comfort foodie's dream. The only tough decision will be choosing between a local favorite or an Italian pasta dish. You might just have to come back more than once.
---
Koa Table, 69-250 Waikoloa Beach Dr # C01, Waikoloa, Hawaii Island, (808) 339-7145.
Lunch: Monday to Sunday: 11 a.m. to 3 p.m.; Dinner: Monday to Sunday: 5 p.m. to 9:30 p.m.