Your Guide to 4 Last-Minute Valentine's Dates in Hawaiʻi
Fortunately, the Islands are among the most romantic places on the planet.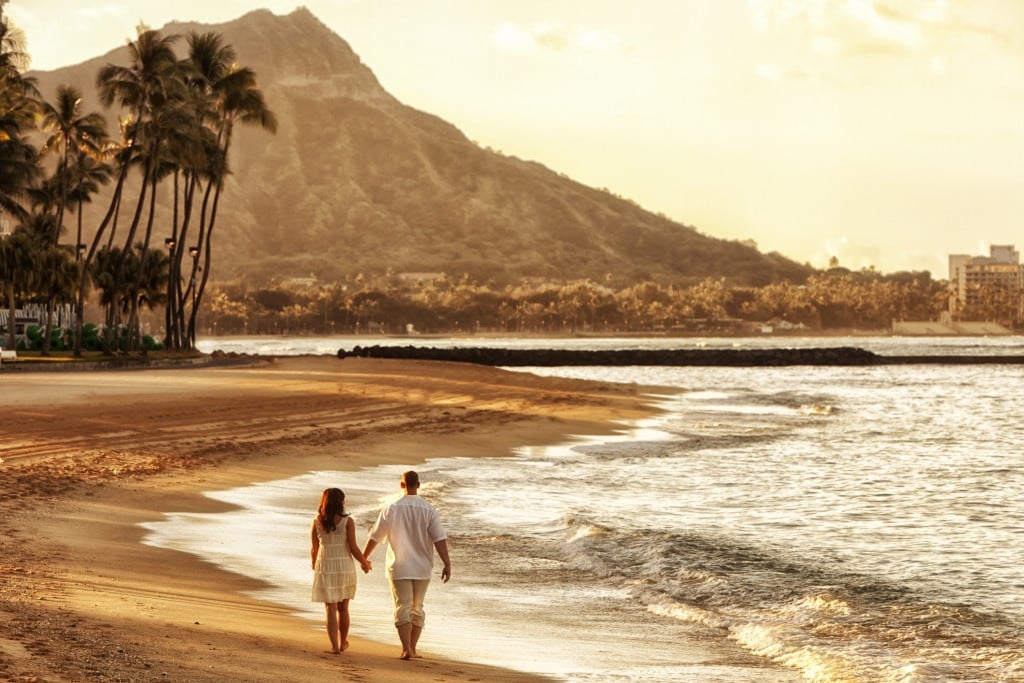 While there's a lot of pressure to plan a spectacular Valentine's Day, the holiday often sneaks up on even the best of us. If you're currently feeling stressed trying to orchestrate an elaborate evening, unable to secure dinner reservations or still searching for the perfect gift, just remember the essence of Valentine's Day is about spending time with your sweetheart. And in Hawaiʻi, there are endless possibilities for a romantic date night, even for those procrastinators. If you briefly forgot about Valentine's Day, it's not too late to make Feb. 14 memorable.
Picnic at a Beach During Sunset
With its world-class beaches and dreamy sunsets, the Islands are naturally a romantic destination. Therefore, utilize the surroundings and arrange a delightful picnic to watch the sun go down on the Pacific Ocean. Picnics also don't require strenuous planning. All that is needed is a blanket, a spread of snackable dishes and a cooler to chill beverages. For a thoughtful touch, a bouquet of flowers will tie the evening together.
On Oʻahu, Lanikai Beach is known for its breathtaking sunrise, but sunset also lends itself to a gorgeous golden hour. Over on Maui's west side, watch a traditional cliff dive from Puʻu Kekaʻa (commonly referred to as Black Rock) as the sun goes down at Kāʻanapali Beach. On Hawaiʻi Island, you can plan an evening at the picturesque, white-sand Hāpuna Beach. Or, if you're on Kauaʻi, Hanalei Bay provides ample space on nearly two miles of beach to arrange a lovely picnic. No matter where you sit at Hanalei Bay, epic views of the valley will be in view.
Throw a Movie Marathon of Rom Coms Filmed in Hawaiʻi
If spending an evening with a bowl of popcorn sounds like an ideal Valentine's Day, then cozy up with a partner to enjoy the perfect cocktail of romance, comedy and the Hawaiian Islands. Although intrinsically cheesy, there's always a comforting feeling indulging in a rom-com. And Hawaiʻi just happens to be the backdrop for a handful of classics as well as fresh films. In the musical romantic comedy, "Blue Hawaiʻi" (1961), Elvis Presley sings and dances through Waikīkī Beach and Lēʻahi (Diamond Head). Starring Adam Sandler and Drew Barrymore, "50 First Dates" (2004) is the archetypal rom-com, which was filmed around Oʻahu.
And no one can forget "Forgetting Sarah Marshall" (2008), which follows the wild antics of Jason Segel, Kristen Bell, Mila Kunis and Russel Brand at the Turtle Bay Resort on Oʻahu. The rom-com veteran Adam Sandler even returned to Hawaiʻi, but this time to Maui with co-star Jennifer Anniston, to film "Just Go with It" (2011). Finally on the rom-com list is "Mike and Dave Need Wedding Dates" (2016). Starring Zac Efron and Adam DeVine, the film leans heavily into being a raunchy comedy, but there is romance in the air at the Turtle Bay Resort once again.
Go Star Gazing
Thanks to relatively low light pollution and the Island's location in the Pacific Ocean, Hawaiʻi is a premier place for viewing the night sky. Fortunately, enjoying the bright stars doesn't require expensive equipment or being at the top of Mauna Kea or Haleakalā. Following a sunset picnic at the beach, stay a little longer to watch the stars appear. Once the sun goes down, just glance up to enjoy the luminous Hawaiian sky.
READ MORE: The Best Places to See the Stars in Hawai'i
Get Your Sweets Something Sweet
While it may be challenging to lock in dinner reservations, visit one of the Islands' terrific bakeries instead. On Oʻahu, Liliha Bakery has created a special Valentine's Day menu, with options including guava cake as well as cupcakes and heart cookies. In Haʻikū, fresh scones, cookies and cakes come out hot every morning at Baked on Maui.
In Waimea, Patisserie Nanako is a family-owned bakery serving Japanese-style pastries such as delicate Japanese cheesecake and classic tiramisu. Their recent specials included a red velvet early grey chocolate cake. And Kauaʻi Bakery, is a beloved island favorite known for award-winning malasadas as well as cakes and pastries.