Guided hikes at Waimea Valley explore leafy Oahu areas otherwise off-limits to public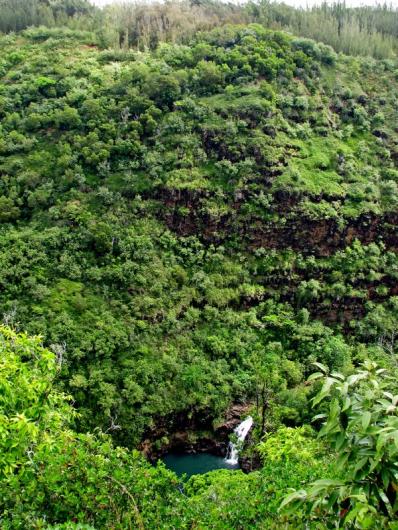 Ready to explore a hiking trail that takes you off the beaten path?
At leafy Waimea Valley, tucked into Oahu's North Shore, the beaten path is a mile-long paved stroll lined with lush tropical botanical gardens and structural remnants from Early Hawaiian communities. It leads to a picturesque 45-foot waterfall, and visitors are welcome to cool off in its freshwater pool.
It's one of our favorite beaten paths on the island. Still, should you get the itch to exit the valley's groomed grounds for a comparatively scruffy but equally fascinating trail, we recommend trying a Saturday morning guided hike at Waimea Valley.
Hiipaka, the nonprofit that operates Waimea Valley's 1,875 acres, is offering guided hikes into areas that are otherwise off –limits to the general public. There are six trails in the lineup, ranging from easygoing 2-milers to fairly strenuous treks of more than 6 miles, which include steep ascents and stream crossings.
The guides — well versed in Hawaiian cultural matters and environmental issues — start each hike at Waimea Valley visitor's center, which serves as headquarters for Hipaka's ongoing cultural education and conservation programs and activities. Hikers are required to wear closed-toed shoes and tote drinking water.
And what will you see once you're off the beaten path?
You'll see bits and pieces of Early Hawaii as the valley features one of Oahu's last partially intact ahupua a — a mountain-to-sea system in which everything necessary for survival could be grown, gathered and exchanged locally. Archaeological surveys are continuing to find components of the system in the remains of traditional living areas and housing lots, farming terraces, fishponds, and religious sites.
Also, you'll see native plants growing in their natural environment. More than 400 species of Hawaiian plants are growing in Waimea Valley, which is now designated as conservation land.
Finally, if you're up for a bit of blood-pumping aerobic climbing onto the valley's ridgelines, you will be richly rewarded with panoramic views of the verdant valley, its waterfall (pictured, above), and the nearby shoreline.
For details about Hiipaka's hiking fees, schedules and related information, click here.