Haleakala cabins on Maui now easier to reserve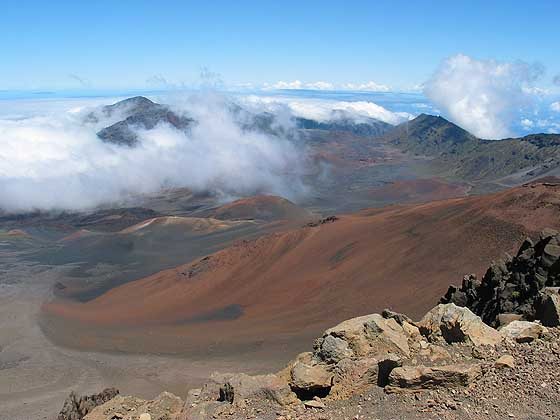 All of us who love trekking Maui's most amazing crater are suddenly happy campers.
Haleakala National Park has done away with the lottery system for cabin rentals within the mountain's crater.
Why is this such good news?
Hiking and camping Mount Haleakala's mountaintop "crater"—actually a massive "erosional depression"—is one of the top three or four backpacking experiences in Hawai'i. It's certainly a wonderland for trekkers who want to experience Hawai'i's stunning, raw volcanic landscape.
Haleakala's bowl is 7 miles across and 2,600 feet deep, with more than 36 miles of curving trails between vivid red, amber and black cinder cones. Spread out among it all are rare endemic silversword plants (below), a hidden lava tube and rustic but comfy cabins to protect against the nighttime icy cold.
But until now, if you didn't want to do a day hike into Haleakala or set up a tent in one of two small primitive campgrounds, trying to reserve one of the three cabins was a roll of the dice. You'd submit on paper your name, the cabin or cabins you wanted to stay in, and your requested dates. Applications would arrive from around the world. A lottery decided who got cabins.
Waiting to see if you'd won was exciting—a bit like Vegas for nature nuts. But it was hard for those of us on tight schedules trying to plan from Honolulu or Helsinki.
The new system is more practical. All reservations are taken over the phone on a first-come-first-served basis.
Call (808) 572-4400, between 1 p.m. and 3 p.m., seven days a week to make a reservation. You can make reservation three months in advance, to the day. So plan ahead. The cost is only $75 per cabin per night for up to 12 people.
There's a three-consecutive-night maximum stay in the crater, but a two night maximum stay at any one cabin.
An online reservation option will also be available soon.