Haleiwa Beach House opens in former Jameson's by the Sea location on Oahu's North Shore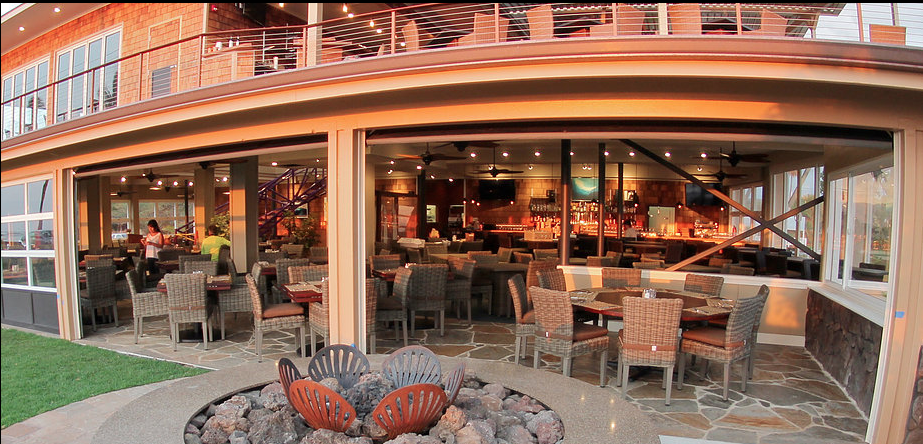 If you've been to Haleiwa, chances are you've eaten at Jameson's by the Sea along Kamehameha Highway, or at least driven past it. The beachfront restaurant was located directly across from the grassy Haleiwa Alii Beach Park and boat harbor.
Was, because the restaurant closed almost a year ago. But not to worry, roughly $2.5 million in renovations later, Jameson's owner, Andy Anderson, has opened the roughly 5,000-square-foot Haleiwa Beach House in the same prime oceanfront space.
The restaurant features natural wood walls, a foyer skylight and floor to ceiling windows in the dining room. The results are bright and airy. There's even a fireplace outside, the perfect place to imbibe on those North Shore winter evenings. (Want to make the most of the view? Dine just as the sun is setting, but be sure to make reservations!)
The Beach House has two bars, one on each level. The better of the two is upstairs on the open-air lanai. Score a seat here, or in the adjacent private banquet or dining room, and you'll have not only have views of the rolling waves, but also of the tranquil, historic Lo Ko Ea fish pond next door.
Anderson brought executive chef Chris Blanc from the Mainland onboard, and he has created a classic Hawaii seafood menu and reinvented the dishes with inventive, and often locally-inspired flavors.
A great pupu is the kalua pig grilled cheese, where the moist, salty kalua pig meets the melty goodness of a classic grilled cheese. Blanc's version is made slightly tangy with goat cheese, topped with pickled onion for added crunch.
Entrees at Haleiwa Beach House range from traditional—steamed onaga and grilled mahi mahi—to creative, mongchong with ginger scallion beurre blanc under a bed of sautéed baby bok choy and garlic chili glazed duck breast. Our vegetarian pick is the house-made fettuccine, served with mushrooms, asparagus and cipollini and tossed in a white wine butter sauce.
Be sure to save room for dessert, especially the must-try house-made doughnuts. They're made-to-order, dipped in buttermilk glaze and topped with Fruity Pebbles cereal. They're something you won't find at many other white tablecloth restaurants and you'll feel like a kid gobbling them down!