Halloween Picks: The best 2017 events happening in Hawaii
Halloween happenings on Maui, Kauai, Big Island and Oahu.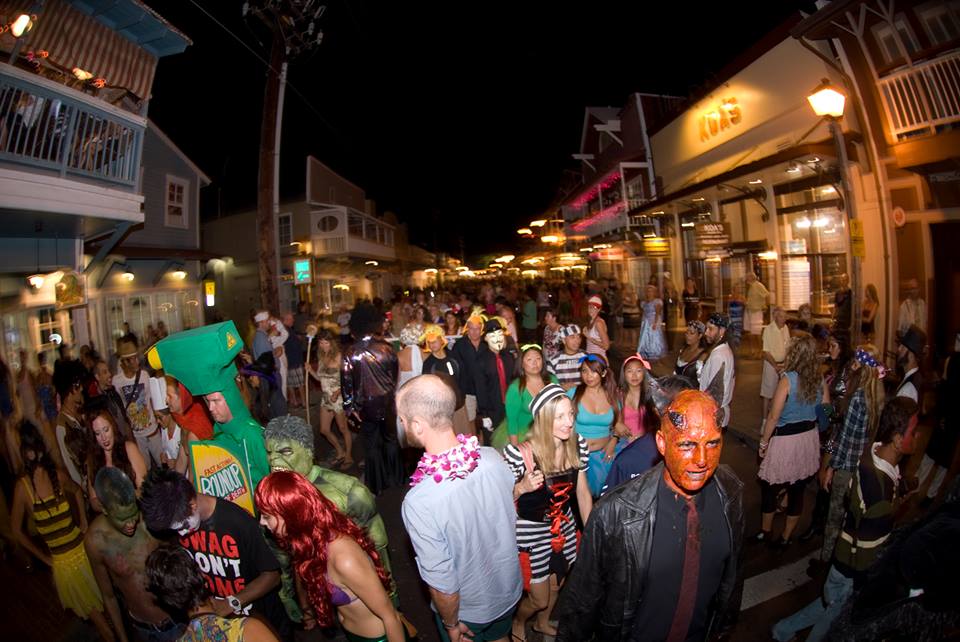 Dress in your best costume and get ready for a night on the town at these fun happenings around the Islands. From concerts to haunted houses and block parties to art fests, here are our top picks.
OAHU
Oct. 26-31
Mummy: A Curse of the Crypt
Actor Jorge Garcia, who appeared on "Lost" and "Hawaii Five-0," opened a haunted house in Kailua, and people have been buzzing about it since it opened. Our sister publication, HONOLULU Magazine, took a tour and describe it as "a scene from an 'Indiana Jones' movie." $15, skeletonkeyhawaii.com.
Oct. 27
Art After Dark
This monthly art event at the Honolulu Museum of Art attracts the young professionals of Honolulu's urban scene, and this month's theme is Kings & Queens. Listen to DJs, enter a costume contest, drink, eat and browse the art exhibits. $25, 6 to 9 p.m., honolulumuseum.org.
Oct. 28
Hallowbaloo
If you're looking for a block party with live entertainment, head to Chinatown for the music and arts festival, Hallowbaloo. From 5:30 to 10 p.m., acts take to the stages to perform while revelers drink and dance on the street. A $15 wristband is required for the street festival. Beginning at 7 p.m., a Club Hallowbaloo ticket ($35) gives you access to 11 clubs around Chinatown and Aloha Tower Marketplace. hallowbaloo.com.
Oct. 31
Halloween in Waikiki
Not an event per se, the reason you want to visit Waikiki on Halloween is to people watch. There will be events at the hotels, of course, such as Rumfire's Wild Wild West Party at the Sheraton Waikiki and Halloween at the Hyatt Waikiki, but a lot of the best entertainment is out in the streets. A tradition that's been going on for as long as I've been alive, people of all ages get dressed up to walk up and down Kalakaua and Kuhio Avenues, cheer each other on and take photos with each other.
For more Oahu events, visit HONOLULU Magazine's "Ultimate Guide."
MAUI
Oct. 28
Bends, Brews and Boos
In an unexpected pairing, Maui Brewing Co. is having a BYOM (bring your own mat) yoga class to celebrate Halloween. Your $20 ticket includes yoga instruction by Amber Tesoro, and your first drink. 605 Lipoa Pkwy., Kihei, mauibrewingco.com.

Oct. 31
Halloween in Lahaina
Similar to Waikiki, prepare to walk Front Street to ooh and aah at people dressed in costume, then visit the many bars and restaurants for food and drinks. Lahaina's Halloween block party is the biggest in the state with about 20,000 people in attendance. Free, lahainahalloween.com.
Halloween concert
The hip-hop group Bone Thugs-n-Harmony is performing at Irish pub Mulligan's on the Blue Halloween night. Sing to the lyrics of "Tha Crossroads" and "First of the Month," while celebrating the last day of the month. Costumes are encouraged. mulligansontheblue.com.
KAUAI
Oct. 28
Zombie Prom on the Bayou
Tahiti Nui proves once more that it's the place to be when you're looking for a good party with friends on the North Shore. Dress for the costume contest, stay for DJs Kalei and Kana. 5-5134 Kuhio Hwy., Hanalei, thenui.com.
BIG ISLAND
Oct. 29
A Rockin' Halloween
The Chamber Orchestra of Kona has rockin' plans for Halloween—a concert at the Sheraton Kona Resort & Spa, featuring Bernaldo Evangelista and Ursula Vietze. $10, 3 p.m., chamberorchestraofkona.com.
Oct. 31
Go on a Time Warp
Hilo's Palace Theater is screening "The Rocky Horror Picture Show" on Halloween night. There will also be a costume contest, selfie booth and the event will be hosted by Lady Lily La Douce of Acme HourGlass Burlesque. $10 advance purchase (or in costume), $12 regular. 7:30 p.m., 28 Haili St., Hilo, hilopalace.com.