Haute diggity! Summer eats at Hank's Haute Dogs.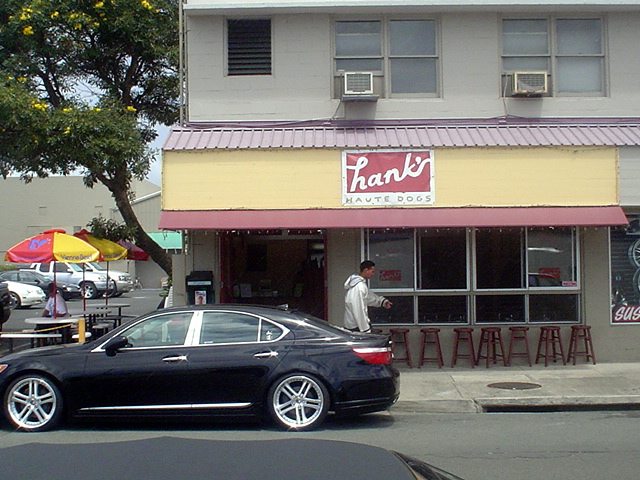 With all due respect to my colleague Sherie Char, she not's the only one who loves to fill up her plate now and again.
So with summer winding down, I had to stop by Honolulu's high-end hot dog stand.
Hank's Haute Dogs is the brainchild of restaurateur Henry Adaniya, the man behind posh eateries like Chicago's Trio. Hank's is a considerable departure from such places—laid-back, informal and very appropriate to the shorts and rubber-slipper crowd.
Now you may wonder: of all the things to eat in Hawaii, why hot dogs? Because at Hank's they give a unique twist to the comfort staple: blending eastern and western flavors and using fresh, locally-grown ingredients.
And their dogs are good, so good that they've often closed early due to high demand.
On the menu you find the standards: Polish and Italian sausages, bratwurst, chorizo, even a Portuguese sausage dog, treasured by locals for its garlicky goodness. What caught my eye, however, were their daily specials—rabbit, duck, even lobster.
The special of the day was a Kobe beef hot dog. Kobe beef is the stuff of legend: a special breed of Japanese cattle are fed the finest grains and brushed and massaged daily. The result is a cut of beef so perfectly marbled with fat it melts in your mouth, literally.
As promising as this sounded, all ground up I couldn't distinguish that my dog was made of the prized beef. It was still a solid sausage (photo, right), but a bit of a letdown since I could have got a fat brat for much less and had some change leftover for an order of Hank's famous double-fried French fries. (Luckily, my companion happened to get some for herself. I snuck a few. They are good.)
The slaw that topped the Kobe dog was a revelation, made with thin strips of daikon and carrot, coated in sesame oil. It provided a nice crunch and smoky compliment to the meat.
Coming up: hamburgers.