HAWAIʻI in the Kitchen: Wagyu Burger
Celebrate National Burger Day today with this popular dish from Island Vintage Wine Bar on Oʻahu.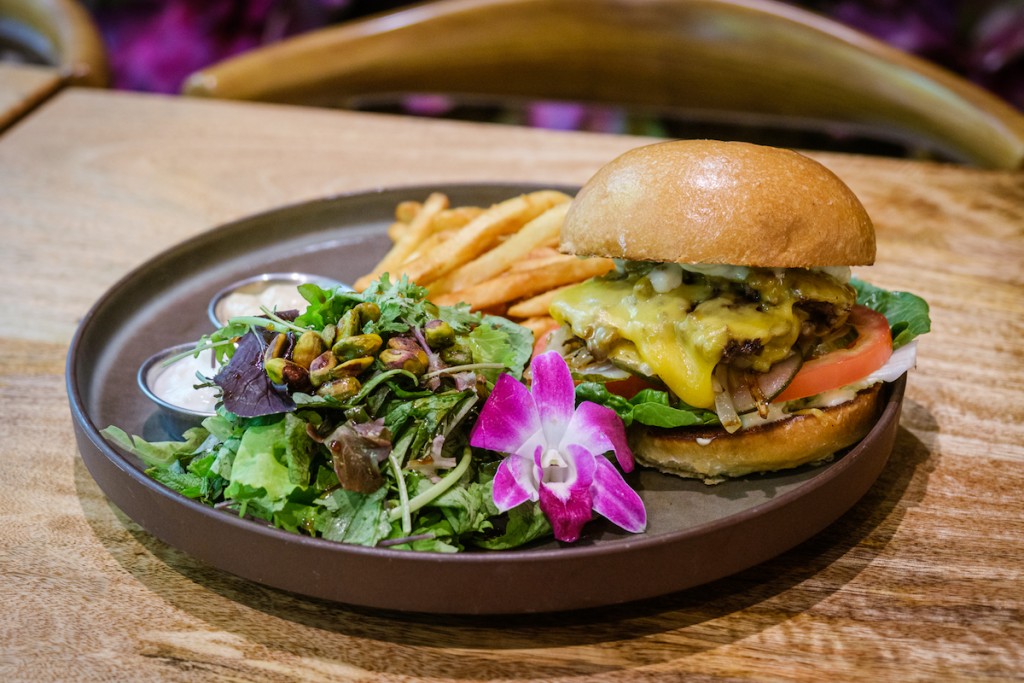 You might not expect a quality wagyu burger—or any burger, for that matter—from a place called Island Vintage Wine Bar.
But it's quickly become one of its most popular menu items. In fact, the Waikīkī restaurant—created by the owners of Island Vintage Coffee and Island Vintage Shave Ice—serves three different kinds of wagyu burgers now. (Wagyu literally means "Japanese cattle" and refers to the entirety of the nation's breeds.)
Christine Lee, chef and kitchen manager at Island Vintage Wine Bar, shares the restaurant's recipe for its wagyu burger, also served at Island Vintage Coffee.
And perfectly timed, too, as today is National Burger Day.
(To see more videos, follow us on Instagram @hawaiimagazine.)
Here's the recipe—and by the way, it makes eight burgers:
Wagyu Burger
Ingredients:
20 oz. of American wagyu assorted cuts of beef, 70% lean
4 La Tour Bakehouse brioche buns, cut in half
8 slices sharp cheddar cheese
4 T. garlic aioli (or mayo)
1 head of fresh local lettuce, leafed
1 tomato, sliced
1 cup onions, sliced
Cucumber pickles
Olive oil
Butter
Kosher salt
Directions:
Measure two 2.5 oz meatballls of fresh ground American Wagyu beef. Smash the meatballs on the grill or pan to form the two patties. Sauté onions with a touch of olive oil. Butter a brioche bun (we use La Tour's) and toast it on the grill or pan until golden brown. Season the Wagyu patties with kosher salt.
Cook your fries.
Once the buns are golden brown, take off the grill and add wasabi aioli on both sides. Add locally grown lettuce and tomatoes, and our housemade pickles to one side of the bun. Top with the sautéed onions. When burgers are ready, top one burger with a slice of cheddar cheese, put the other burger on top of that, and add another slice of cheddar cheese on the top, then cover with a large pot lid and let steam just until cheese is melted. Put the burgers with cheese on top of the veggies, then put the other bun on the top.
Plate with the fries, dipping sauces, and local baby green salad with balsamic vinaigrette.