Hawaii becomes first state in U.S. to make surfing an official high school sport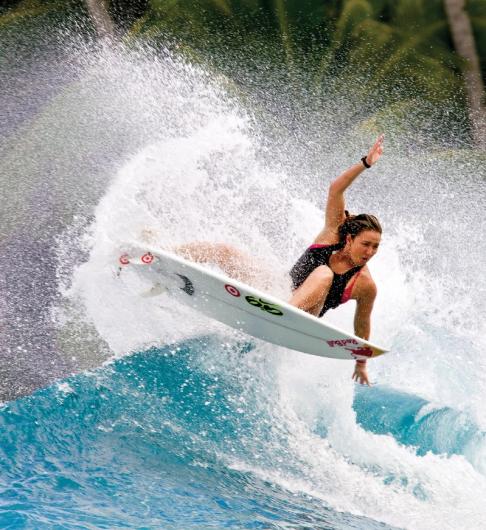 The Islands where surfing was born more than three centuries ago is now the first state in the U.S. to recognize surfing as an official high school sport.
In an announcement made on Waikiki beach this week, Hawaii Gov. Neil Abercrombie announced a plan that would allow Hawaii public high school students to be able to compete in school sanctioned surf competitions. That means surfing would join the ranks of football, basketball, soccer, volleyball and wrestling as a competitive school sport, with contests possibly starting as early as spring 2013.
The plan had been long in the works.
The Hawaii State Board of Education had actually approved surfing as a high school sport in May 2004. In a media release, state officials said that despite support from parents and students, funding for programs and other challenges kept surfing from becoming a sanctioned high school sport in the seven years since. The most significant of these challenges included liability and safety concerns. Students will be covered by their family insurance policies under the new plan.
"Hawaii is the birthplace of surfing. From Duke Kahanamoku to the thousands of residents and visitors who surf both recreationally and competitively, the sport is rooted in our culture and way of life," said Abercrombie. "Bringing surfing to our students is another step in our collective goal to transform public education and provide our children with rich and diverse educational opportunities."
Abercrombie made the announcement near the Waikiki statue of Duke Kahanamoku, the famed Hawaii waterman and Olympic gold medal-winning swimmer. Joining Abercrombie and state education officials in the announcement was Hawaii-born-and-raised 2011 Association of Surfing Professionals Women's World Tour Champion Carissa Moore, who, at age 18 this summer, became the youngest surfer ever to win a world title.
"Surfing has been a really big part of my life growing up and has taught me so many life lessons," said Moore, adding, "I think surfing is definitely a really good outlet for a lot of teens and young kids. And it's a way to channel a lot of energy into something positive. So yeah, this is really awesome."
We can't wait until competition begins!