Hawaii celebrates Kamehameha Day with parades, cultural events. Here's where to go.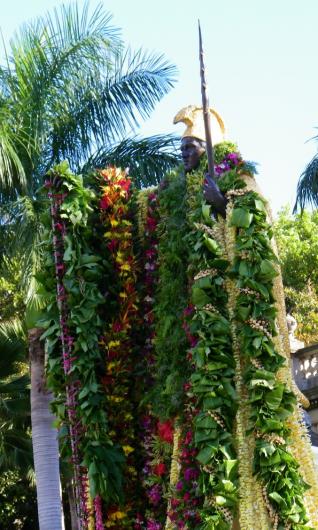 King Kamehameha Day is this Friday, June 11.
It's a state holiday, honoring King Kamehameha the Great, who unified the Kingdom of Hawaii in 1810 and was its first monarch. Ceremonies statewide will pay tribute to the king's legacy with lei draping of Kamehameha statues on Oahu and the Big Island, parades and other cultural celebrations.
The largest of these ceremonies—which this year also celebrate the 200th anniversary of King Kamehameha's establishment of the Kingdom of Hawaii—happens on Oahu on the June 11 holiday and on Saturday, June 12.
The Oahu King Kamehameha I statue, fronting Aliiolani Hale across from Iolani Palace, receives its annual lei draping on Friday, beginning at 11:30 a.m. You'll want to arrive early and bring a camera. Volunteers begin stringing the fresh 25-foot flower and maile lei for the statue on site from the early morning through the draping. Then, utilizing a cherry picker (or fire truck ladder) to raise them up to the height of the statue, volunteers carefully drape the lengthy strands over the king's outstretched arms. When the work is finished a few hours later, the king appears as resplendent as you see in the photo on the right. Live music from the Royal Hawaiian Band, beginning at 11 a.m., precedes the lei draping
The 94th annual King Kamehameha Celebration Floral Parade—with its flower-bedecked floats, high school marching bands, pā 'ū riders, hula dancers, musicians and marching units—winds through the streets of Honolulu on Saturday, beginning at 9 a.m. Sadly for return visitors accustomed to grabbing a curbside seat on Kalakaua Avenue to watch the parade, this year's route won't be heading down Waikiki's main drag towards its usual Kapiolani Park finish. (The good news is, it appears this will only be a temporary route swtich for 2010.)
This Saturday's parade will begin at Waikiki's Fort DeRussy—on the corner of Ala Moana Boulevard and Kalakaua Avenue—and proceed on the makai (ocean side) lane of Ala Moana Boulevard, then turn onto Punchbowl Street. The parade route then heads mauka (toward the mountains) on Punchbowl Street, turns left on King Street and ends at Iolani Palace. Live entertainment and craft demonstrations and food and art booths open to the public on the palace grounds at 10 a.m. It'll be a great place to spend the afternoon.
The best spots to grab a curbside spot for the parade? In Waikiki, we'd take to the Ala Moana Boulevard curb outside the Hilton Hawaiian Village, Ilikai Hotel and Hawaii Prince Hotel. The stretch of Ala Moana Beach Park fronting Ala Moana Boulevard also provides lots of great vantage points. Closer to the parade's end, we like just about any sidewalk spot from the corner of King and Punchbowl Streets to the Iolani Palace grounds.
A list and schedule of King Kamehameha Day celebrations on the Big Island and Maui follows on the next page. We will continue to update the schedule throughout the week, as necessary.
King Kamehameha Day events on the Big Island and Maui
The Big Island
• June 10, 5 p.m. — Lei draping of King Kamehameha Statue in Hilo Bayfront Park by royal societies and the Kamehameha Schools Alumni Association.
• June 11, 10 a.m.-all day — Kamehameha Festival at Moku Ola in Hilo. A daylong celebration (pictured, right) on the small island park in Hilo Bay, featuring hula and live music, cultural demonstrations, food booths and Hawaii-made arts and crafts booths. Click here for more info.
• June 11, 8 a.m.-all day – North Kohala King Kamehameha Day celebration and parade. The Big Island region that is Kamehameha the Great's birthplace celebrates with a blessing and lei draping of its statue of the king (pictured, below), chant and hula. A floral parade through Hawi and Kapaau, beginning at 9 a.m., ends at Kamehameha Park, where a daylong celebration will feature hula and musical entertainment, food booths, craft demonstrations and artist booths. Click here for more info.
Maui
• June 12, 9 a.m.-all day — Lahaina Na Kamehameha Commemorative Pā 'ū Parade and Ho'olaule'a. The annual Lahaina town tradition begins at 9 a.m. with opening ceremonies and a daylong ho'olaule'a (celebration) at Banyan Tree Park with entertainment, food booths and craft and artist booths. The parade begins at 9:45 a.m. on Front Street.