Hawaii Fishing and Seafood Festival slated for this weekend in Honolulu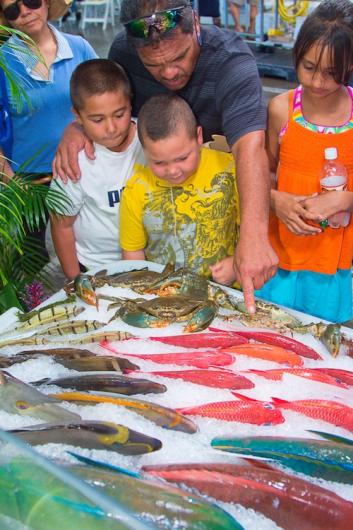 The seventh annual Hawaii Fishing and Seafood Festival will be held this weekend at Harbor View Center and in Honolulu Fishing Village, Pier 38.
Among the highlights: Sea-to-Me Tasting Night, at which local professional chefs paired with University of Hawaii community college culinary students will operate island-specific seafood tasting stations.
In a news release issued by fest organizers, chef Mark Oyama, a culinary instructor at Kauai Community College said: "This will be a special occasion to enjoy fine seafood prepared by our talented up-and-coming student chefs and at the same time help Hawaii's students advance their education.

Admission to the Sea-to-Me event, a fundraiser for the community college culinary programs, is $75. Attendees must be 21 years old. The event will be held from 5:30 p.m. to 8:30 p.m. on Fri., Oct. 5 at Harbor View Center, Pier 38.
The annual festival day will be held from 9 a.m. to 4 p.m. on Sun. Oct. 7 at Honolulu Fishing Village, Pier 38. The free event, which organizers say has drawn 20,000 festivalgoers in previous years, will feature everything from vendors showcasing fishing- and ocean-related businesses to fishing workshops and seafood cooking demonstrations. Also, there will be tours of fishing vessels and a fish auction facility.
The news release stated: "The festival's purpose is to promote awareness of marine conservation, ocean safety, responsible fishing and highlight Hawaii's magnificent seafood industry."
Public parking and shuttle service will be available at Honolulu Community College, starting at 8 a.m. For more information about the fest, presented by the nonprofit Pacific Islands Fisheries Group, click here.