Hawaii Five-0 to showcase footage from Molokai-2-Oahu paddleboard championship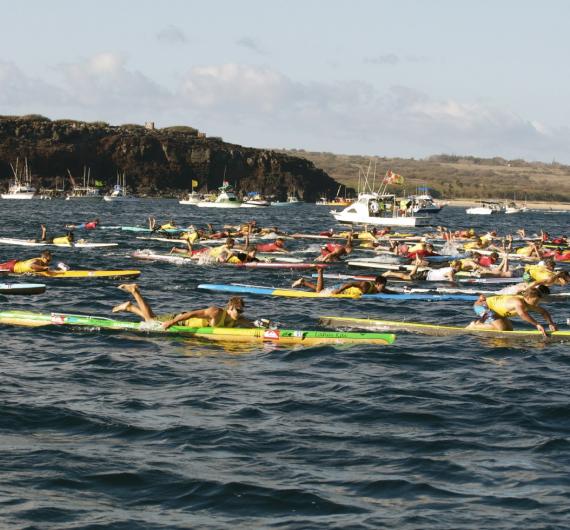 Hawaii Five-0 will feature footage from the recent 15th annual Molokai-2-Oahu Paddleboard World Championship (M2O) in an episode slated to air on Mon., Sept. 26, according to Surfline, an online company that specializes in surf forecasting and surfing-related news.
On July 31, more than 250 athletes — on both prone and stand-up paddleboard — competed in the 32-mile, open-ocean crossing of the famously unpredictable Kaiwi Channel, also known as the Molokai Channel.
According to Surfline, the M2O race (pictured, right) was identified by the Hawaii Five-0 producers as an "authentic Hawaiian event to be showcased" in the popular redux of the classic Hawaii-filmed CBS TV police procedural drama. Thousands of fans turned up on Waikiki Beach on Sept. 10 for a special advance screening of the first episode of the show's sophomore season. (We were there for the fun event. To check out what we saw, click here.) The rest of the world watched the episode on Mon., Sept. 19.
The next episode's storyline involves the kidnapping of the teen winner of a women's stand-up paddleboard race. According to Surfline, "although Hawaii Five-0 reenacted the M2O finish line for the show, actual race footage is featured throughout the episode."
Some of the fastest athletes complete the race course — from Molokai's Kaluakoi Beach (north shore) to Oahu's Maunalua Bay Beach Park (south shore, near Hawaii Kai) — in less than five hours.
Oh, and if you're a dedicated Hawaii Five-0 fan, check out Hawaiian Airlines' Hawaii Five-0 trivia game. If you answer a trivia question correctly, you'll be entered into a drawing for various travel-related prizes. For game details, click here.