Hawaii Food & Wine Fest '13 returns to Oahu this week after first-ever Maui event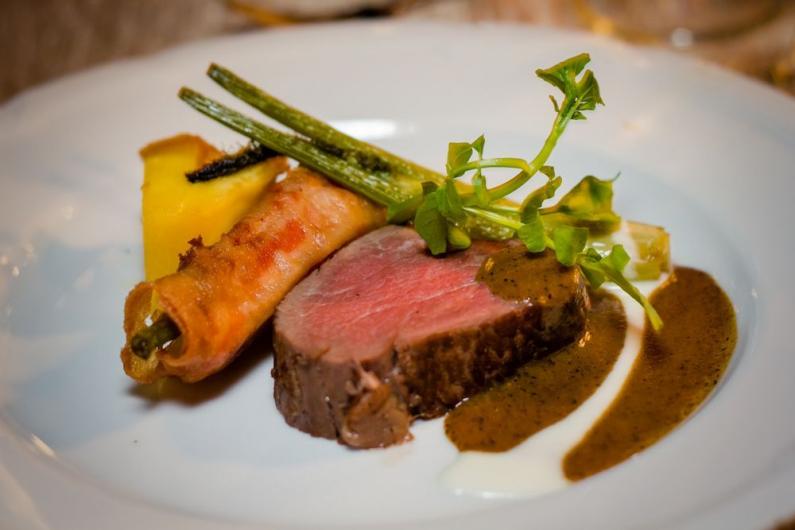 This past Sunday evening, the Hawaii Food & Wine Festival kicked off its third annual week of grand epicurean events with "Malama Maui"—the fest's first-ever gourmand gathering away from its traditional home island of Oahu. To our eyes and sated palates, Malama Maui was a great success.
Hosted oceanside, just after sunset, at the Hyatt Regency Maui, the six-course reserved-seating dinner featured a diverse menu of dishes crafted by Hiroyuki Sakai (Iron Chef Japan), Sheldon Simeon (Top Chef: Seattle), Marcel Vigneron (Top Chef: Season 1), Rick Tramonto (Tramonto Steak & Seafood, Illinois), Bev Gannon (Bev Gannon Restaurants, Maui) and host chef Gregory Grohowski (Hyatt Maui). A food staging area set up on a raised stage alongside the dining area proved an inspired addition to the event, allowing diners an up-close view of each of the chefs as they plated the evening's dishes, more often than not assisted in garnishing and other prep work by their fellow celebrity chefs. (Observing Iron Chef Sakai quietly help finish off plating of Gannon's elaborate dessert trio—which included a goat cheese panna cotta with roasted Maui figs and lavender macaron with honey macadamia ice cream—with dollops of keawe honey was especially cool.)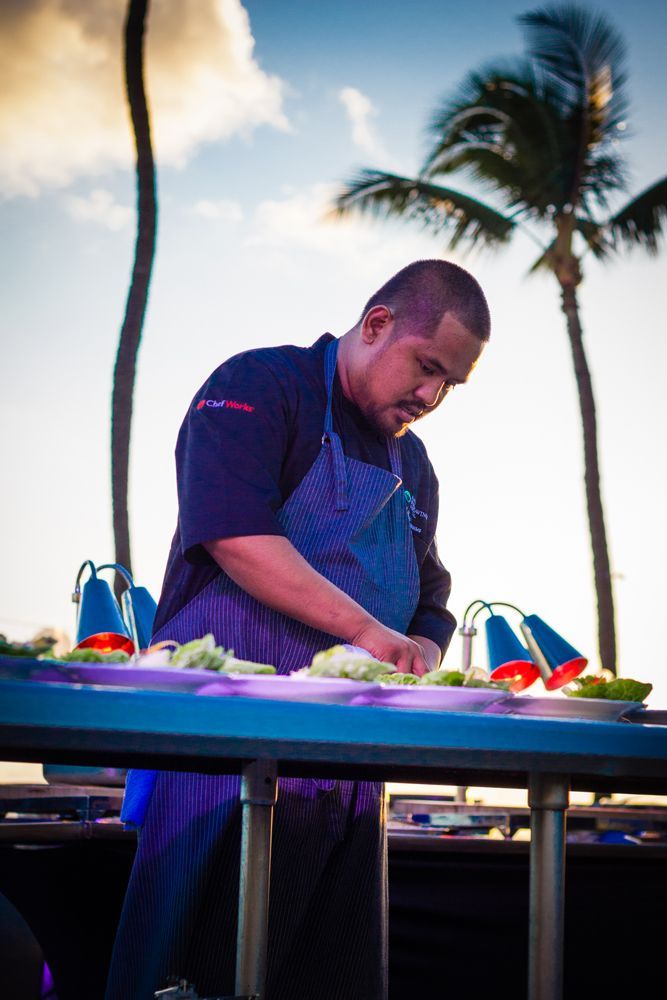 Chef Sheldon Simeon helps garnish Chef Marcel Vigneron's opening course at "Malama Maui" dinner.
It all added up to a great evening and great inaugural feast, for sure. But the Hawaii Food & Wine Festival is just getting warmed up.
The festival returns to Oahu this week for its four biggest events, along with multiple cooking and cocktail demonstrations and seminars, all set for Thurs., Sept. 5, through Mon., Sept. 9. The sit-down dinner and grazing menus this year will include dishes from more than 75 internationally renowned master chefs and sommeliers. In addition to the Malama Maui chefs noted above, chefs working the festival's main food events include Chicago modernist cuisine chef Grant Achatz (Alinea, Next), San Francisco Michelin star winner Dominique Crenn (Atelier Crenn), New York dessert master Christina Tosi (Momofuku Milk Bar), Iron Chef Japan's Masaharu Morimoto and Jonathan Waxman (Barbuto).
In addition to Simeon, Gannon and Grohowski, other notable Hawaii chefs cooking at the fest include Mark "Gooch" Noguchi (Taste Table, Pili Hawaii), Quinten Frye (Salt Bar & Kitchen), Chris Kajioka (Vintage Cave), Chai Chaowasaree (Chef Chai), Vikram Garg (Halekulani), Hiroshi Fukui (Hiroshi Eurasian Tapas), Michelle Karr-Ueoka (Alan Wong's Restaurant), Alan Wong (Alan Wong's Restaurant), Andrew Le (The Pig & The Lady pop-up), George Mavrothalassitis (Chef Mavro), Ed Kenney (Town), Robert McGee (Hawaiian Fresh Farms) and more.
This week's Hawaii Food & Wine Festival main food events include:
• "Under the Modern Moon: Morimoto & Friends" Host chef Masaharu Morimoto (Iron Chef, Morimoto Waikiki) and 14 international chefs from Asia and the Pacific work up inventive signature dishes on the pool deck of the Modern Honolulu hotel in Waikiki.
6-9 p.m., Thurs., Sept. 5
• "Around the World with Seven Chefs: Third Annual Halekulani Master Chefs Gala Series" A lavish seven-course dinner by seven world-renowned chefs paired with wines from top sommeliers at the Halekulani hotel in Waikiki.
6-9 p.m., Fri., Sept. 6
• "Taste Our Love for the Land" Grown-in-Hawaii ingredients are the showcase items in dishes crafted by 18 world-renowned chefs known for their farm-to-table prowess. Hosted on the rooftop garden of the Hawaii Convention Center in Honolulu.
6-9 p.m., Sat., Sept. 7
• "Savory Ever After" The festival finale event will feature 14 chefs crafting a menu of ethnic foods from around the world, under the stars at the Aulani Disney Resort & Spa and JW Marriott Ihilani Resort lagoon.
6-9 p.m., Sun., Sept. 8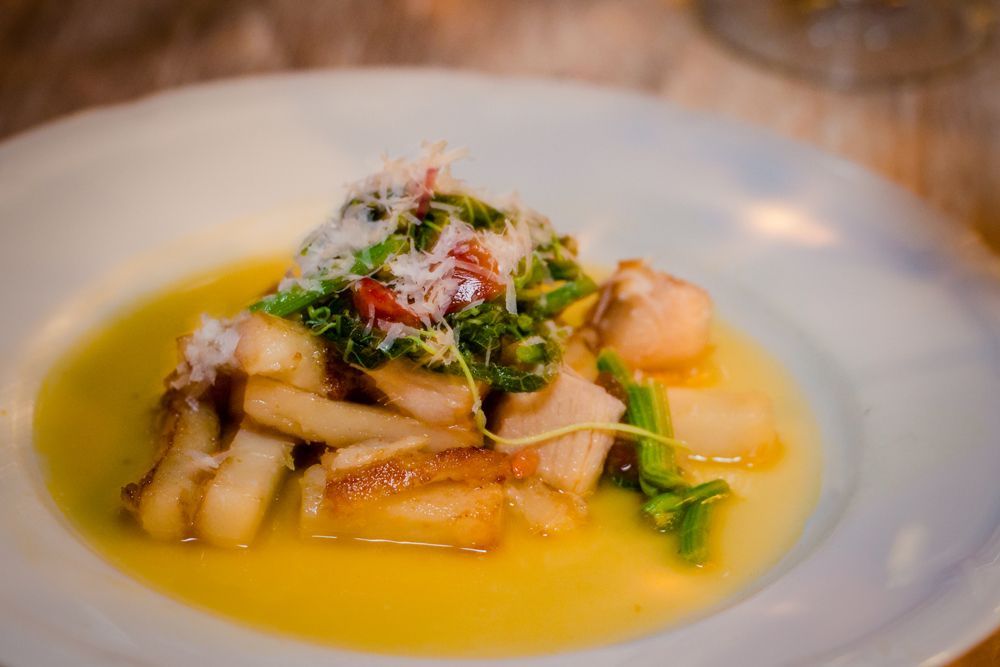 Chef Sheldon Simeon's Chow Funn and Pork Belly with Pipinola and Achiote from "Malama Maui" dinner.
Tickets for single Hawaii Food & Wine Festival events or packages are available online at
www.hawaiifoodandwinefestival.com
, along with more information about the fest's main food events, cooking demonstrations and seminars.