Hawaii-grown pineapple all over Alan Wong's Restaurants special menu in September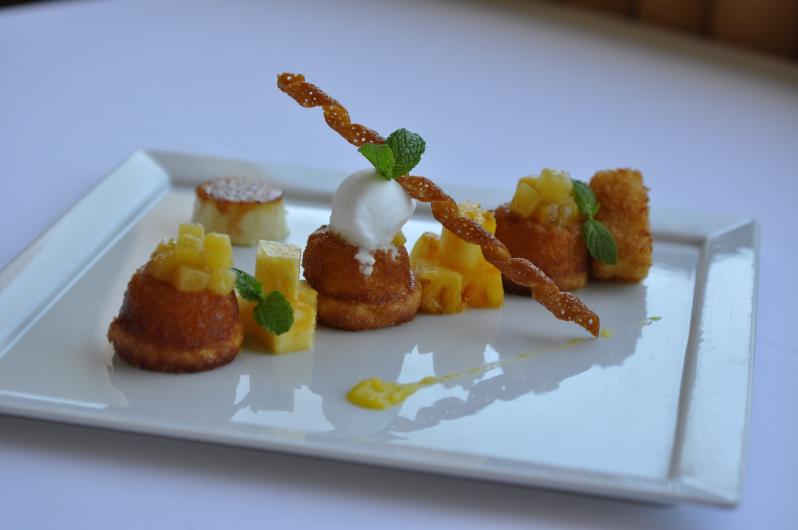 Fresh, Hawaii-grown pineapple.
It's what's on the menu at Hawaii chef Alan Wong's Oahu restaurants in September. That is, a special a la carte dining, cocktail and dessert menu, which guests can enjoy all month at Wong's flagship Alan Wong's Restaurant in metro Honolulu and Pineapple Room at Ala Moana Center.
Wong's restaurants have been spotlighting a different Hawaii-grown or -produced ingredient on special a la carte menus each month. Mangoes were the featured ingredient in June, the peak of the fruit's Hawaii growing season. Island-produced eggs were the a la carte menu focus in August.
With pineapple at its harvest peak in the summer, Wong—one of the pioneering chefs of the Hawaii Regional Cuisine movement—didn't want the warm season to end without crafting a menu for the popular fruit.
"This year's pineapple crop in Hawaii has been really good," says Alan Wong's Restaurants marketing manager Nicole Ng. "September, in particular, is looking to be a great month for island-grown pineapple."
Hence, special a la carte menus (accompanying Wong's regular dining menus) featuring pineapple for breakfast (Pineapple "Soup" w/ Fresh Fruit), lunch (Pineapple Glazed Pork Loin w/ Pineapple Chutney), dinner (Lobster, Kauai Shrimp & Octopus Ceviche on Frozen Pineapple "Tiger's Milk") and dessert (Pineapple Upside-Down Cake), among other pineapple-inspired offerings.
Because we're serious cocktail aficionados, we're also down with a menu of pineapple libations crafted by Wong for the month. In particular, a Pineapple Margarita made with fresh pineapple and lime, and Hawaii-made okolehao. (Okolehao is a rum-like Hawaiian liqueur made from the root of the ti plant.)
For the chef's complete pineapple menu, visit Alan Wong's Restaurants website from Sept. 1- Sept. 30.
Alan Wong's Restaurant, 1857 S. King St., 3rd floor, (808) 949-2526; The Pineapple Room by Alan Wong, Macy's at Ala Moana Center, 3rd floor, (808) 945-6573.