Hawaii heritage breed pork the main course at Cochon Island culinary event on Big Island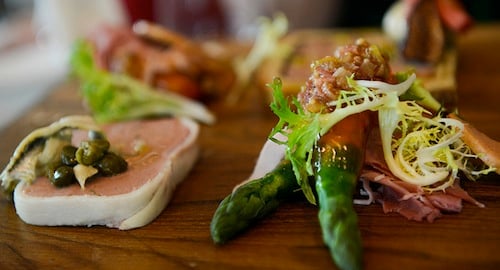 Hawaii pork lovers (and pork lovers just visiting our Islands) unite!
The epicenter of the pork universe will be the Big Island this weekend when the Cochon U.S. Tour settles in at the South Kohala Coast's Mauna Kea Beach Hotel for Cochon Island—an afternoon and evening grand culinary event celebrating the sustainable farming of heritage breed pigs.
What is Cochon? Essentially, it's a series of events, held annually in multiple U.S. locations, designed to raise consumer awareness and education about heritage breed pig varieties increasingly found on restaurant menus and the farmers that raise these breeds responsibly. Along with that knowledge, Cochon event attendees also get to experience a sui generis pork aficionado gathering typically featuring multiple chefs, each crafting a menu emphasizing use of the whole of the pig, matched with much wine, beer and spirits.
Cochon Island, happening this Sat., Sept. 21, will be Hawaii's first Cochon event. The afternoon will challenge five Hawaii chefs to prepare an entire menu created from a single heritage breed pig. Each chef will given a whole 150 lb. pig from a specific heritage breed—Berkshire, Yorkshire, Hereford, Feral—raised by a Hawaii farmer. Attendees get to watch the chefs as they prepare their menus, and sample the final results.
Participating Hawaii chefs and farms at Cochon Island include:
• Mark "Gooch" Noguchi (Pili Group/Taste Table Hawaii, Oahu)
Yorkshire pig from Kubo Hog Farm
• Ed Kenney (Town, Oahu)
Feral pig from Hawaiian Hogs, Inc.
• Lee Anne Wong (Oahu)
Yorkshire pig from Ahnuloa Farm
• Michael Young (Bistro Molokini, Maui)
Feral pig from Hawaiian Hogs, Inc.
• Peter Pahk (Mauna Kea Beach Hotel, Big Island)
Berkshire pig from Azevedo Hog Farm
Other Cochon Island taste temptations for attendees will include a tartare bar, cheese bar, perfect Manhattan cocktail and mezscal bars, wines, beer and pork-spiked desserts. Also on the menu will be ramen dishes, sustainable seafood samples and cured meats from Chef Devin Lowder of Kailua-Kona's When Pigs Fly Island Charcuterie.
All of it will be held outdoors at the Mauna Kea Beach Hotel's oceanfront luau grounds from 4 p.m. (for VIP ticketholders) and 5 p.m. (for general admission attendees) through sunset and beyond.
For more information on Cochon Island or to purchase tickets, visit the event's website.