Hawaii humpbacks celebrated at Whale Day on Maui this weekend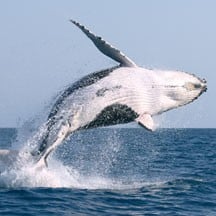 Hawaii visitors and residents look forward to the first sighting of humpback whales in our Island waters each November.
Humpback whales — called koholā in Hawaiian — settle in Hawaii's warm and shallow waters each November through early May to breed, birth and raise their calves. They travel more than 3,000 miles of ocean—from southeastern coastal waters in Alaska—to get here, a journey that takes about two months.
The Maui Whale Festival, in its 31st year, celebrates Hawaii's annual winter visitors each December through May. Its signature event, however, is Whale Day, happening this Saturday, Feb. 19, at Oceanside Kalama Park in Kihei, from 9 a.m. to 6 p.m.
The all-day event includes a Parade of Whales (pictured, middle) through the south shore resort area of Kihei, live entertainment, multiple food booths, a Made-on-Maui market, children's activities, a silent auction and educational displays. Proceeds from Whale Day will support marine education programs for Maui schoolchildren.


It's a terrific family event that attracts thousands annually. If you're on Maui this weekend, you should go.
One of Whale Day's featured attractions is the Wild & Wonderful Whale Regatta (pictured, bottom), Maui's own version of a rubber duck race. Little rubber whales race on a watercourse, with the sponsor of the winning whale receiving free roundtrip airfare for two between the U.S. Mainland and Maui.
Hawaii musicians performing all day at Whale Day's live music stage include Anuhea (who's from Maui), Cecilio & Kapono, John Cruz, Marty Dread, The Throwdowns and Maui slack-key guitar master George Kahumoku Jr.
The humpback whale is still on the endangered species list, but efforts to protect them have increased their overall population in recent years. Hawaii's humpback whale population is estimated to have doubled over the last decade to about 10,000 to 12,000 annually.


For more than 30 years, Maui Whale Festival and Whale Day organizers the Pacific Whale Foundation has educated more than 3 million Maui residents and visitors about the ocean, as well as established educational whale-watching tours and ocean eco-tourism programs in Hawaii. The foundation works with the international community to promote whale research and protection.
For more information on the Maui Whale Festival—which continues through May 15—and a schedule of upcoming events, click here. For more information on whale-watching activities hosted by the Pacific Whale Foundation, click here.
And be sure to check out HAWAII Magazine's Landlubber's Guide To Whale Watching in the Islands.