HAWAIʻI in the Kitchen: Coffee & Kiawe Cocktail
What better way to celebrate National Rum Day with a cocktail made from artisanal rum by Kauaʻi's Kōloa Rum Co.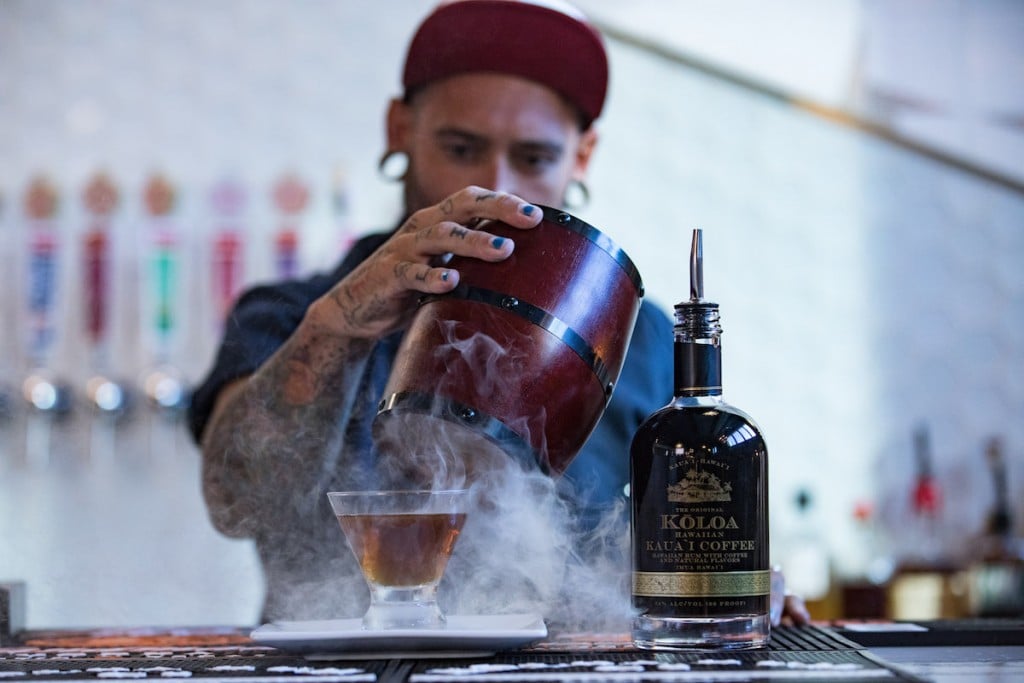 Who doesn't love rum?
It's a liquor distilled from sugar—pure cane sugar, syrup or molasses—that adds the sweetness to some of the most popular vacation cocktails. The mai tai, daiquiri and mojito—they all owe their iconic tiki status to rum.
Sunday, Aug. 16 is National Rum Day. So we asked our friends at Kōloa Rum Co. on Kauaʻi to come up with a celebratory cocktail using its signature artisanal, single-batch spirits, which are made from Hawaiʻi-grown sugar cane. Nickolas Alves, a mixologist at Hana Koa Brewing Co. in Honolulu (one of Kōloa's on-premise partners), concocted this smokin' (literally) cocktail using Kōloa's unique coffee rum mixed with vermouth, mezcal and vodka.
SEE ALSO: Kōloa Rum Co. Expands to Its Namesake, the Historic Sugar Town of Kōloa, Kauaʻi
(To see more videos, follow us on Instagram @hawaiimagazine.)
Here's the recipe:
Coffee & Kiawe Cocktail
Ingredients:
1/2 oz. Kōloa Coffee Rum
1/2 oz. Carpano Antica vermouth
1/2 oz. Nuestra Soledad mezcal
1 ½ oz. Tito's Handmade vodka
Pinch kiawe smoked sea salt
Directions:
Combine ingredients in a shaker with ice. Shake and strain into a chilled "smoke-rinsed" glass.
There are a variety of ways to prepare a smoked cocktail at home. The most simple way is to "smoke-rinse" the glass. First, chill your glass. Then, prepare the cocktail. Before pouring, take whatever you are smoking (we recommend a chunk of kiawe wood for this cocktail) and light it on fire on a heat-proof surface. Then, turn your chilled glass upside down on top of the burning ingredient, covering it completely. Once the smoke dissipates, you're ready to pour!