HAWAIʻI in the Kitchen: M Poke with a Ginger Scallion Sauce
Make this easy-but-elegant poke dish by chef Jeremy Shigekane of Chef Mavro Restaurant for your next pau hana.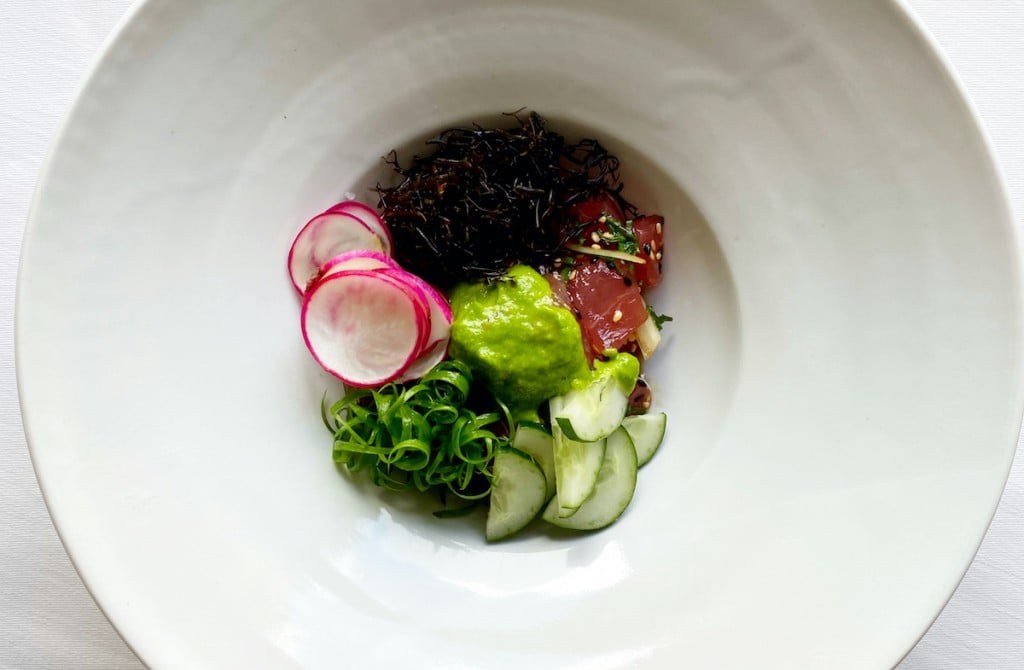 Who doesn't love poke?
In our second video in our new cooking series, "HAWAIʻI in the Kitchen," chef-owner Jeremy Shigekane of the famed Chef Mavro in Honolulu and M by Chef Mavro shows us how to make the restaurant's M Poke with a house-made ginger scallion sauce.
It's the perfect pūpū (appetizer) for your Friday pau hana. Cocktails optional (but highly recommended).
(To see more videos, follow us on Instagram @hawaiimagazine.)
Here's the recipe:
M Poke with Ginger Scallion Sauce
Ingredients:
16 oz. ʻahi or marlin, cubed
1/4 tsp. Hawaiian salt
1/4 tsp. sesame oil
2 tsp. soy sauce
2 T. chopped ogo (optional)
1 tsp. ginger scallion sauce (see below for recipe)
Directions:
Mix fish, salt, soy sauce in a bowl. Sprinkle ogo if available and fold with a rubber spatula. Drizzle sesame oil and fold a few times carefully not to over mix. Top with ginger scallion sauce and serve.
Ginger Scallion Sauce
Ingredients:
1.5 oz. ginger, sliced
2 oz. scallion, green tops only, chop to 1 inch
3 tsp. granulated sugar
1 tsp. kosher salt
1.5 oz. grapeseed oil or another neutral oil
Directions:
Blend all ingredients on high speed for 1 minute or until purée is fine and chill.