HAWAIʻI in the Kitchen: Macadamia Nut Bread Pudding
Executive chef Wesley Pumphrey of Stripsteak Waikīkī on Oʻahu walks you through the restaurant's popular macadamia nut bread pudding.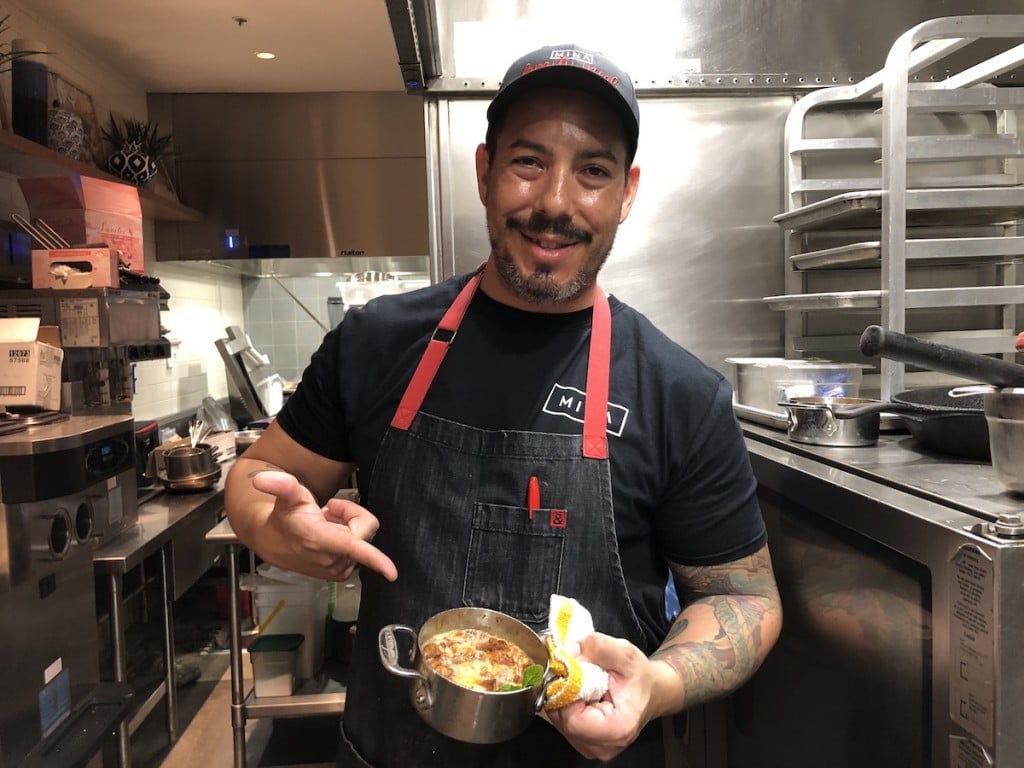 Bread pudding. It could be the ultimate comfort-food dessert.
And it couldn't be simpler: bread, eggs, sugar, milk.
Executive chef Wesley Pumphrey of Stripsteak Waikīkī shows you how to take the humble bread pudding to the next (local) level with brown sugar, orange zest and macadamia nuts. He offers expert tips and step-by-step instruction on whipping up the perfect single serving of bread pudding.
View this post on Instagram
BONUS: Pumphrey even shows you how to make a quick whiskey cream sauce!
(To see more videos, follow us on Instagram @hawaiimagazine.)
Here's the recipe:
Macadamia Nut Bread Pudding
Ingredients:
1 cup bread, cubed
1/2 cup heavy cream
1 egg, beaten
2 to 3 T. white sugar
2 to 3 T. brown sugar
1/4 tsp. cinnamon
Orange zest
Pinch of salt
About 1/4 cup macadamia nuts
Pat of butter
Directions:
Preheat oven to 350 degrees. Use a single-serving, oven-safe dish. Mix heavy cream and egg. Add white and brown sugars, then beat. Add cinnamon and orange. Pour over bread cubes and mash it down, making sure the cream soaks into the bread. Transfer mixture into a baking dish. Add macadamia nuts to the top, evenly dispersed. Cover with aluminium foil and bake for 25 minutes. Take it out of the oven and top with a little brown sugar and a pat of butter, then return to the oven for another 4 to 5 minutes. Serve warm with crème anglaise, melted vanilla ice cream or a whiskey cream sauce.