HAWAIʻI in the Kitchen: Pad Thai Noodles
Award-winning Hawaiʻi chef Chai Chaowasaree shares his recipe for this popular stir-fry rice noodle dish from Thailand.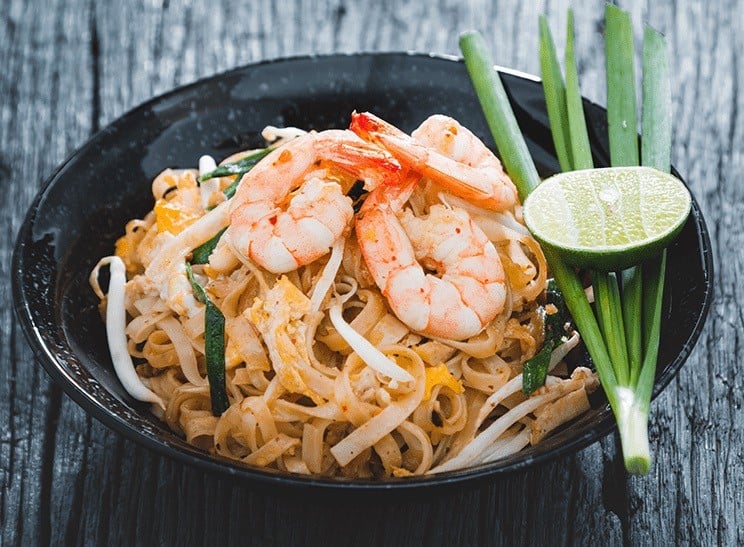 If you've even been to a Thai restaurant—just about anywhere—you would have seen "pad Thai noodles" on the menu.
This stir-fry rice noodle dish one of the most popular Thai dishes—especially in Hawaiʻi—featuring some kind of protein (chicken, shrimp, beef, tofu), peanuts, bean sprouts and scrambled egg, all sautéed together in a wok and tossed in a pad Thai sauce that's salty, sweet and spicy.
Man, I'm hungry already!
Chai Chaowasaree (@chefchaipacifica), an award-winning chef and owner of Chef Chai at Pacifica Honolulu on Oʻahu, shows us how to make pad Thai noodles—and, honestly, it's not as hard as it looks!
(To see more videos, follow us on Instagram @hawaiimagazine.)
Pad Thai Noodles
Ingredients:
4 cups Thai Rice noodles (already soaked in water to soften)
2 oz. vegetable oil
6 oz. shrimp
3 oz. fried tofu
1 oz. fish sauce
3/4 oz. white vinegar or tamarind paste
1 oz. sugar
1/2 tsp. paprika
Large pinch chile flakes
1 whole egg
1 cup bean sprouts
1/4 cup flat chives
1 oz. chopped unsalted peanuts
Ice
Directions:
In a nonstick pan or wok on medium high heat, add shrimp and tofu and cook for 30 seconds.
Add noodles, fish sauce, vinegar, sugar, paprika and chile flakes and cook until the noodles are cooked and have no liquid, about 3 to 5 minutes, depending on the heat of your burner.
Move the noodles to one side of the pan and add the egg on the empty side and fold the noodles over; let it sit for 15 seconds.
Add beansprouts, chives and peanuts and cook for 20 seconds more.
Place in a plate or bowl to serve. Garnish with raw bean sprouts, chives and lime wedges.