Hawaii Island's Kamokuna lava delta collapses, ocean entry viewing area temporarily closed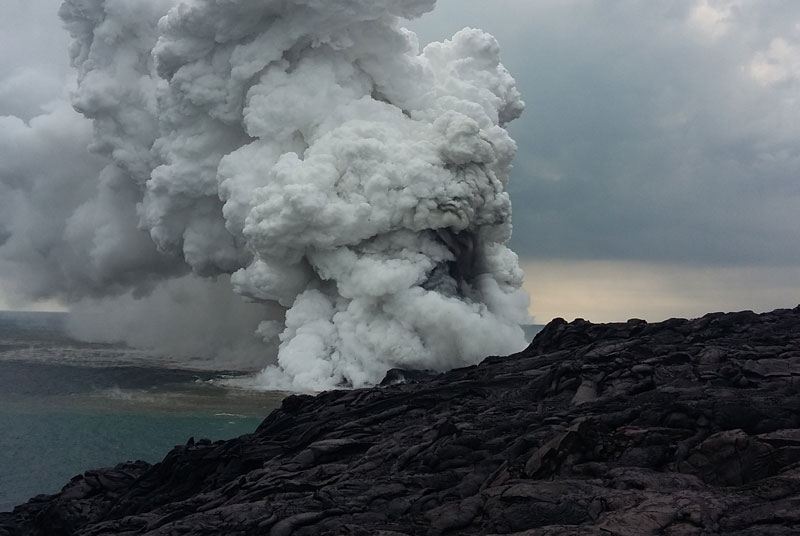 A large section of the 26-acre lava delta created at the Kamokuna ocean entry from the 61g lava flow has collapsed into the ocean. It occurred on New Year's Eve, December 31, 2016 at 2:45 p.m.
The intense spectacle, located within Hawaii Volcanoes National Park, propelled rain showers of volcanic rock debris into the air and a series of large waves from the eroded portion of the sea cliff. Thunderous booming from the site could be heard ringing throughout the immediate area.
When lava enters the sea, it forges new land on loose substrate that's highly unstable creating a volcanic feature known as a lava delta. They're extremely dangerous and occur without warning. USGS Hawaiian Volcano Observatory scientists had noted cracks developing parallel to the coastline since last October.
As shown in this video from the National Park Service, this display of nature on New Year's Eve powerfully illustrates that those warning signs scattered across the coast of Hawaii Volcanoes National Park aren't merely decoration.
Until further notice, the public viewing area of the Kamokuna ocean entry is closed. USGS Hawaiian Volcano Observatory scientists and park rangers are currently surveying the area to determine if and when it will be safe to reopen to visitors.
The County of Hawaii also closed the Kalapana access to Hawaii Volcanoes National Park.
As if you needed a further example of why everyone should heed all official warnings, park rangers had to chase down and stop five visitors who trespassed across the white rope closure line right before they reached the coastal cliffs around 7 p.m. on New Year's Eve. The visitors eventually stopped and turned around to return to the safe zone. Then, just 15 minutes later, the section of cliff where the visitors were going toward crashed into the ocean.
Fortunately there were no aircraft or boats in the area at the time of collapse.
Update (1/3/17): Kamokuna remains closed as park rangers and scientists work to access and relocate the lava ocean entry viewing area. HVNP has tentative plans to reopen today, Tuesday, January 3, at noon.
Update (1/3/17): Hawaii Volcanoes National Park has reopened a newly established lava viewing area at the Kamokuna ocean entry, following the two-day closure.