HAWAII Magazine's "75 Places to Eat Like A Local": Melting Pot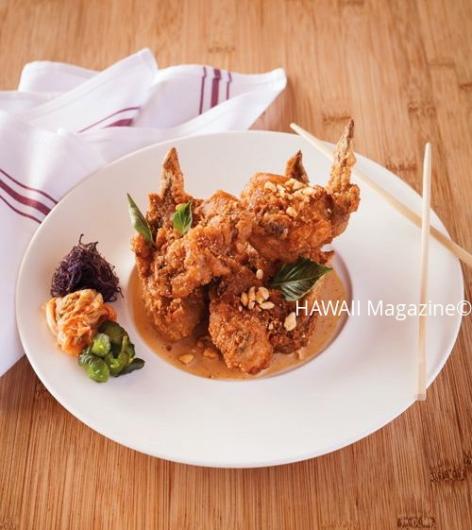 Inside HAWAII Magazine's November/December 2014 Food Issue you'll find "75 Places to Eat Like a Local," our now annual guide to the Hawaii places you'll find residents like us heading to eat when we're famished. This year's "75 Places to Eat Like a Local: Mixed Plate Edition" digs into the Islands' renowned array of multicultural cuisines. For example, where we go when we're after the best Korean kalbi and kimchee pancakes. The restaurants we head to for the best Vietnamese food. And, when we're craving more than one ethnic cuisine, the places with melting pot menus boasting eats from multiple Hawaii cultures.
For the past couple of months, we've been sharing a few categories and eateries from this year's "75 Places to Eat Like a Local: Mixed Plate Edition" guide here on HawaiiMagazine.com. We've shared our "Hawaiian," "Japanese," "Asian Hot Pot," "Poke," "Vietnamese" and "Korean" categories in previous posts. Below is the last category we're sharing: the five restaurants that made our "MELTING POT" category.
Let's eat!

75 Places to Eat Like a Local: Mixed Plate Edition
"Melting Pot"
Category 13 of 15

Because sometimes—all right, lots of times—one culture's food isn't enough for us.

Grondin French Latin Kitchen
The name of this hip, brick-walled eatery in the middle of downtown Honolulu's Chinatown district, plus its nationally acclaimed Fatty 'Cue pedigree, gets the curious through the door. Chef Andre Pressler's appealing menu, rich with locally sourced meat, seafood and veg, makes sure they return for another double shot of Latin (the adobo steak with a flavorful tomatillo purée slays us) and French (a generous lunch cassoulet with local pork shank and house-cured lardon) cuisines.
62 No. Hotel St., Oahu • (808) 566-6768 • grondinhi.com
Migrant
Reimagined Filipino, Korean, Japanese, Hawaiian and Chinese dishes sit side-by-side on the menu and, often, combine in cleverly amusing ways at Migrant. The source of it all is the interminably creative, multiculturally schooled mind of chef Sheldon Simeon, who dreams up dishes like Bottom of the Plate Lunch (exactly what it sounds like) and Korean chicken wings with Filipino kare kare stew sauce from small-kid-time memories.
In the Wailea Beach Marriott, 3700 Waialea Alanui Drive, Maui • (808) 875-9394 • migrantmaui.com
Hawaiian Style Cafe
We present your classroom setting for your crash course in Multicultural Local Food 101. That char siu and lup cheong plate you're enjoying? Chinese. The lechón kawali? Filipino. Pulehu ribs? Hawaiian. Kalbi? Korean. Smoked-meat omelette? Who cares. Just eat it. Pop quiz on Tuesday, kids.
681 Mānono St., (808) 969-9265; 65-1290 Kawaihae Road, (808) 885-4295; both Hawaii Island
Mission Social Hall & Cafe
Ever-fascinated with crafting modern Hawaii cuisine by researching its storied roots, chef Mark "Gooch" Noguchi's menu at his new Hawaiian Mission Houses Museum lunch café has two main influences. First, dishes inspired by the daily diet of 19th-century Hawaii missionaries. Second, his signature elevated takes on multicultural comfort dishes, with ingredients sourced as locally as possible. A Molokai venison ramen salad? An Oahu-sourced smoked meat and pai ai (pounded taro) salad? That's Gooch just getting started.
553 S. King St., Oahu • (808) 447-3910
Moon & Turtle Restaurant (formerly Full Moon Cafe)
The menu changes daily at this exceptional Hilo restaurant, the deciding factor being what fresh, locally sourced meat, seafood and produce brothers Mark and Tedd Pomaski can procure, and which Hawaii ethnic cuisines they wish to explore that day. What customers are treated to on every visit is an exceptionally inventive amalgam of multicultural cuisines—from Vietnamese, Japanese and Chinese, to Spanish, German, Korean and more.
51 Kalakaua St., Hawaii Island • (808) 961-0599