HAWAII Magazine's "75 Places to Eat Like A Local": Noodles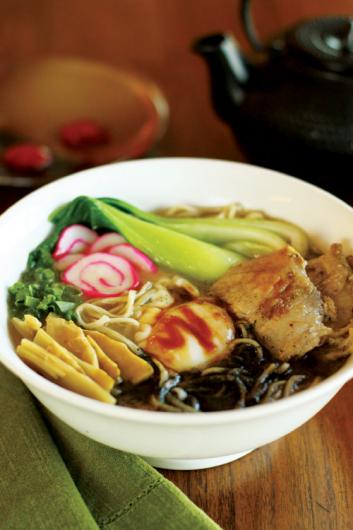 HAWAII Magazine's 2013 Food Issue is all about features focused on Hawaii eats.
The November/December issue's main course, however, is "75 Places to Eat Like A Local," a guide to the Hawaii places you'll find us grabbing a bite to eat, or telling our friends and family to nosh at. They're the cafes we send our Mainland-dwelling former college roommates to when they visit Hawaii and want comfort food. The Honolulu noodle bars we take neighbor island family to eat when they visit "the big city." And much more.
Over the last two months, we've been sharing multiple categories and eateries from our "75 Places to Eat Like a Local" feature here on HawaiiMagazine.com. (Not all 75, of course. For that, you'll have to purchase the issue.) We've so far revealed 5 of the feature's 15 food categories here online: "FROM THE SEA," "HOMEGROWN," "CARNIVORE,""BREAKFAST," and "LUXE & LOCAL."
Below is the sixth category we're sharing: the six restaurants that made our "NOODLES" category.
Enjoy!

75 Places to Eat Like A Local
"Noodles"
Category 10 of 15

Some go for saimin. Some go ramen. We go for it all.
Star Noodle
Founding chef and Top Chef contestant Sheldon Simeon is no longer leading the kitchen at this mod-cool Lahaina noodle bar, but his inspiration still rules much of the menu. The noodle dishes here—from the porky Hapa Ramen and Star Udon to Lahaina Fried Soup—are unmatched on Maui.
286 Kupuohi St., Lahaina, Maui • (808) 667–5400 • Website

Goma Tei
The menu at this Honolulu noodle bar's two locations is a mix-and-match ramen lover's dream. Will it be housemade char siu pork or slivers of tender chicken in our sesame oil-infused tan tan ramen? Pork tonkatsu or wakame seaweed in our shoyu ramen? And for sides, housemade shredded pork-filled gyoza or crispy, mochiko flour-battered chicken tatsutaage? Decisions, decisions.
Ala Moana Center (808) 947-9188 and Ward Centre (808) 591-9188, Honolulu, Oahu • Website

Belly Bowl at Lucky Belly in Honolulu, Oahu Photo: Derek Paiva.
Lucky Belly
Downtown Honolulu's Chinatown district has oodles of places for noodles—from Chinese restaurants to Vietnamese pho stands. Lucky Belly brings modern noodle bar flair to the game, matching a small, but solid ramen menu—the Belly Bowl with pork belly, smoked bacon and pork sausage is our fave—with brilliant small-plate eats—lamb lumpia, oxtail dumplings among the offerings.
50 N. Hotel St., Honolulu, Oahu • (808) 531-7888 • Website
Matsugen
As we see it, here's the way to go at this Waikiki noodle house: Pick something off the menu. Get your companion to order it. You slurp up a bowl of tender, sliced duck and housemade soba in rich broth, once of our favorite noodle dishes ever. Win-win.
255 Beach Walk, Waikiki, Oahu • (808) 926-0255
Sam Sato's
Perhaps you've read the whole story on this family-run restaurant's most famous contribution to Maui cuisine: dry mein. (The story's also in our 2013 Food Issue.) Now wing on over to Maui and into Wailuku town for the best darn version of this Maui comfort food favorite you'll ever have. Make sure to pick up some manju and baked turnovers from Sam Sato's bakery, too.
1750 Wili Pa Loop, Wailuku, Maui • (808) 244-7124
Hamura Saimin
Many locals say there's no better bowl of saimin—the classic, born-in-Hawaii noodle soup composed of simple dash (broth) and spare garnishes—than at this hallowed, humble hole-in-the-wall eatery in the heart of Lihue on Kauai. Some argue the secret's in the clear, lightly fishy broth. Others say it's all about the thin, firm housemade noodles, made fresh daily. We don't argue. We just eat.
2956 Kress St., Lihue, Kauai • (808) 245-3271 •Website