HAWAII Magazine's "75 Places to Eat Like A Local": Poke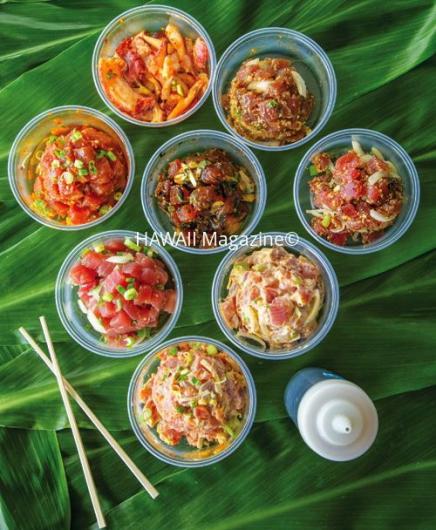 HAWAII Magazine's 2014 Food Issue is on sale now.
Among its main courses is "75 Places to Eat Like a Local," our now annual guide to the Hawaii places you'll find residents like us heading for great eats when we're hungry. This year's "75 Places to Eat Like a Local: Mixed Plate Edition" digs into the Islands' renowned array of multicultural cuisines. For example, where we go when we want the Vietnamese pho with the tastiest broth. The izakaya restaurants with the biggest and best selection of our favorite Japanese dishes crafted to go with a night of beer and sake. Where we head to when we're looking for great Mexican street food in Hawaii.
Through the end of December, we're sharing a few categories and eateries from this year's "75 Places to Eat Like a Local: Mixed Plate Edition" guide here on HawaiiMagazine.com. We've shared our "Hawaiian food," "Japanese food" and "Asian Hot Pot" categories in previous posts. Below is the fourth category we're sharing: the five restaurants that made our "POKE" category.
Let's eat!

75 Places to Eat Like a Local: Mixed Plate Edition

"Poke"
Category 10 of 15

With so many multicultural influences elevating humble poke to elite status, it deserves its own category.
Da Poke Shack
We appreciate that this popular Kona poke shop has always stuck to its "always fresh, never frozen" motto even when seafood prices (especially for popular ahi) rise. Customers understand the worth of paying a bit more for the luxuriously clean tasting, sweetly briny "sea candy" Da Poke Shack uses in its takeout poke and poke bowls—your choice of multiple daily varieties, served with rice and a kimchee or veg side.

Two locations on Hawaii Island • dapokeshack.com
Eskimo Candy Seafood Market & Cafe
There are decent enough burgers, ribs, teri chicken plate lunches and seafood items on the menu of this Kihei takeout joint. For us, however, it's always about the poke at Eskimo Candy—in particular, its four-ways ahi poke bowl with shoyu, wasabi, furikake and spicy varieties surrounding a scoop of ocean salad. You can order takeout poke containers here, too.
2665 Wai Wai Place, Maui • (808) 879-5686 • eskimocandy.com
Tanioka's Seafood & Catering
The ahi and aku here are touted for their freshness. The variety of poke available on any given day is mind numbing. Standing in front of the cold case at Tanioka's, unable to choose just one or two, is a rite of passage for Oahu poke junkies. We try to rotate. Crunchy garlic-onion ahi and smoked-mussel poke one day. Onion limu (seaweed) aku and spicy ahi the next.
94-903 Farrington Highway, Oahu • (808) 671-3779 • taniokas.com
Koloa Fish Market
Where others do poke bowls, Koloa Fish Market does a poke bento. Envision a see-through rectangular bento container substituting for the standard plastic bowl, with your choice of multiple daily poke varieties blanketed over a thinner-but-wider layer of rice (for a better poke-to-rice ratio) and topped with furikake. The poke here is darn good, too.
5482 Koloa Road, Kauai • (808) 742-6199
Kahuku Superette
There are many who claim this community grocery store serves up the best ahi shoyu poke in the state. Count us in with the masses on this one. The secret here is in the fresh ahi and amazing sauce—simultaneously sweet and soy salty, with rich hints of sesame oil, toasted sesame, Hawaiian chili pepper and ingredients no one at Kahuku Superette ever divulges.
56-505 Kamehameha Highway, Oahu • (808) 293-9878