HAWAII Magazine's "75 Places to Eat Like A Local": Vietnamese Food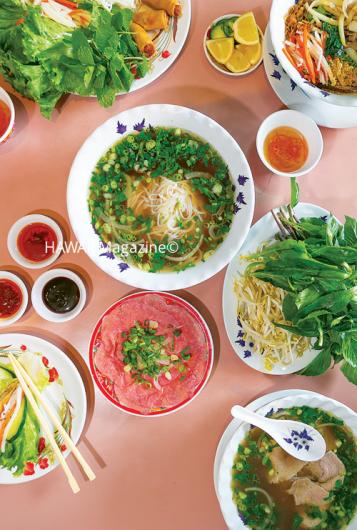 HAWAII Magazine's 2014 Food Issue is on sale now.
Inside the issue you'll find "75 Places to Eat Like a Local," our now annual guide to the Hawaii places you'll find residents like us heading to eat when we're famished. This year's "75 Places to Eat Like a Local: Mixed Plate Edition" digs into the Islands' renowned array of multicultural cuisines. For example, where we go when we're after the best Hawaiian food. The sushi restaurants and bars with the freshest and best variety of seafood. Where we head to when we're looking for sublime Italian cuisine prepared with—if we've got a craving for it—Hawaii-procured seafood.
Through the end of December, we're sharing a few categories and eateries from this year's "75 Places to Eat Like a Local: Mixed Plate Edition" guide here on HawaiiMagazine.com. We've shared our "Hawaiian food," "Japanese food," "Asian Hot Pot" and "Poke" categories in previous posts. Below is the fifth category we're sharing: the five restaurants that made our "VIETNAMESE" category.
Let's eat!
75 Places to Eat Like a Local: Mixed Plate Edition
"Vietnamese"
Category 8 of 15
Where we go for the best pho and so much more.
Saigon Vietnamese Cuisine
In a photo essay covering Honolulu's Chinatown district in our November/December 2012 issue, we praised this eatery for serving up the best rare beef pho we'd ever had. Nothing's changed, especially our continuing amor for Saigon Cuisine's savory, slow-simmered beef broth, which raises the classic Vietnamese comfort food dish to ambrosial levels.

164 N. King St., Oahu 
• (808) 599-1866
Pho Saigon
A classier Honolulu street address and fancier interiors account for slightly higher menu prices here than at many Vietnamese restaurants in town. But we've found quality of ingredients, presentation and taste noticeably a cut above in our continuing march through Pho Saigon's menu of familiar Vietnamese fare and original house dishes.
1534 Ala Moana Blvd., Oahu • (808) 955-1069
Pho Viet
Tucked away on an all-but-hidden side street in old downtown Hilo, this homey, family-run restaurant serves up flavorful Vietnamese food in portions belying its very compact interiors. The menu selection may be a bit limited for some (basically soups, pho, stews and summer and spring rolls), but Pho Viet makes up for that in presentation, freshness of ingredients and taste.
80 Kilauea Ave., Hawaii Island • (808) 935-1080
A Saigon Cafe
First off, order the Vietnamese steak—toothsome morsels of tender char-grilled strip steak rich with fish sauce and garlic flavor. Now that you've got the important dish out of the way, find joy in the rest of the menu with orders of mi vit tiem duck noodle soup and veg-stuffed banh xeo sizzling pancakes, for starters.
1792 Main St., Maui • (808) 243-9560
The Pig & The Lady
Our 2014 "Best of Hawaii" issue selection for Best New Oahu Restaurant, this downtown Honolulu eatery is relentlessly inventive chef-owner Andrew Le's lab for exploring Vietnamese cuisine. Matching Le's creative whims, the menu is ever changing, with new dishes introduced regularly and departed favorites, including classics by his mom, making grand returns. We've never imagined Vietnamese food the way Le does. Now, thankfully, we don't have to try. We just eat and enjoy.
83 N. King St., Oahu • 
(808) 585-8255 • thepigandthelady.com