Hawaii marks 70th anniversary of WWII attack on Pearl Harbor with survivor-focused events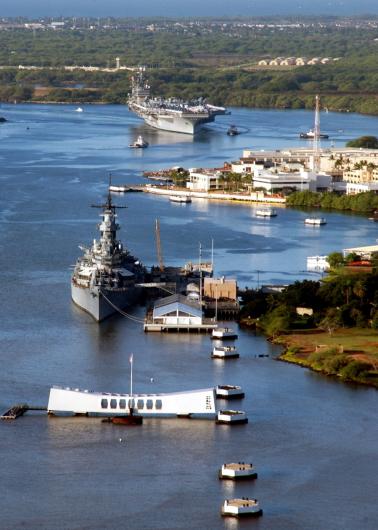 To see an update to this post, click here.
This month, the historic sites of the National Park Service's World War II Valor in the Pacific National Monument, in tandem with military personnel at Joint Base Pearl Harbor-Hickam, will mark Pearl Harbor Day with 70th anniversary ceremonies and events focusing on military and civilian survivors of the attack and ongoing efforts to preserve their stories for future generations.
The weeklong 70th Pearl Harbor Day Commemoration, titled "Enduring Legacy," starts tomorrow at the National Park Service's Pearl Harbor Visitor Center with a three-day symposium at which survivors and historians will recount and examine the events that led the United States to enter World War II. Other events slated to start in the days leading up to next week's Pearl Harbor Day: a USO tribute dubbed "Jukebox Saturday Night;" historic Pearl Harbor boat tours narrated by National Park Service rangers; a special "Blu-Ray" disc screening of "Tora! Tora! Tora" (1970); and a sunset ceremony aboard the USS Utah at Ford Island. For more information about these advance events, click here.
Ceremonies on Pearl Harbor Day, Wed., Dec. 7, will begin early in the morning and continue into the afternoon.
• At 7:55 a.m. — the exact time the Japanese aerial attack began on Dec. 7, 1941 — survivors, military officials and others attending the anniversary ceremony at Pearl Harbor (held in full view of the USS Arizona Memorial), will pause for a moment of silence.
• A memorial marker ceremony for the USS Oklahoma is set for 10:30 a.m. at the National Cemetery of the Pacific-Punchbowl (at Punchbowl Crater in the Honolulu area).
• At midday, the Battleship Missouri Memorial will host a mass band performance featuring more than 650 performers from a dozen high school, college and community bands jointly performing patriotic tunes, under the direction of Pearl Harbor survivor Allen Bodenlos. The 45-minute 70th Anniversary Pearl Harbor Mass Band performance will take place pier-side at the Missouri, which is a ship's length from the USS Arizona Memorial. Click here for information about a live webcast of the performance.
• A memorial commemoration will take place at the USS Oklahoma at Ford Island, starting at 1:30 a.m.
At Oahu's Pearl Harbor, seven decades after President Franklin Delano Roosevelt's declaration of the day as "a date, which will live in infamy," tangible evidence tied to the events of Dec. 7, 1941 lives on. Machine-gun strafing hole from Imperial Japanese fighter planes still dot old the runway at Ford Island and hangars at Hickam Air Force Base. Oil, sometimes called "black tears" still seeps up from the sunken USS Arizona (pictured, left), beading the surface of the water at the battleship's memorial. The Park Service describes the battleship as the "final resting place for many of the 1,177 crewmen who lost their lives on December 7, 1941." The number of American casualties that day totaled more than 2,300 sailors, soldiers and civilians.
Nearly four years after the Pearl Harbor attack propelled the United States into World War II, Imperial Japan's formal surrender took place on Sept. 2, 1945, aboard the USS Missouri, anchored in Tokyo Bay. The "Mighty Mo" battleship is now located in Pearl Harbor, a ship's length from the USS Arizona (pictured, at top of page). For more information about 70th Pearl Harbor Day Commemoration events, click here.