Hawaii marks King Kamehameha Day with parades, lei-drapings. Here's where to go.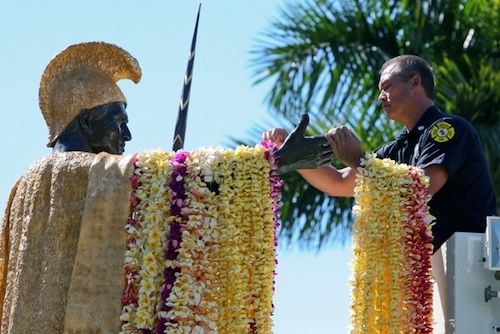 Hawaii will celebrate its King Kamehameha Day this weekend — and next weekend — with ceremonies, parades and other cultural celebrations paying tribute to King Kamehameha the Great, who established the Kingdom of Hawaii in 1810 and was its first monarch.

The first King Kamehameha Day, proclaimed by King Kamehameha V to honor his grandfather, King Kamehameha I, was held on June 11, 1872. It's now a state holiday — one of the first holidays proclaimed when Hawaii became a state in 1959. (The official state holiday will be observed on Mon. , June 10.)
King Kamehameha Day festivities will get under way tomorrow, Fri., June 8, on Oahu and the Big Island and will wrap up on Sat., June 16 on Maui and Kauai.
The largest of the celebrations is slated for Honolulu. Festivities will start at 3:30 p.m. tomorrow, when the King Kamehameha I statue, on King Street and across from Iolani Palace in downtown Honolulu's historic Capitol District, receives its annual lei-draping. Starting tomorrow morning and continuing into the afternoon, on-site volunteers will string fresh 25-foot flower and maile lei for the statue. Volunteers will be lifted by way of cherry picker (pictured, above) to drape the long strands over the king's outstretched arms.
The 96th annual King Kamehameha Celebration Floral Parade — complete with its flower-studded floats, high school marching bands, pau riders, hula dancers, musicians and marching units — will wind through the Waikiki area, starting at 9 a.m. on Sat. June 9. This year, the route for the event — known as the longest parade in Hawaii — will start at Iolani Palace and end at Kapiolani Park. Immediately after the parade completes its route, the annual King Kamehameha Day Hoolaulea (celebration) will be held in the park until about 4 p.m. It will feature live music and other performances, food booths, cultural demonstrations, and educational exhibits.
Here's a list of King Kamehameha Day events in the works elsewhere in the Islands. We'll update the schedule, as necessary.
Big Island
• Sun., June 10, 5 p.m. — Lei draping of King Kamehameha statue in Hilo Bayfront Park by royal societies and the Kamehameha Schools Alumni Association. For additional information about holiday events in Hilo, click here.
• Mon., June 11, 8 a.m.-all day – Kohala King Kamehameha Day lei-draping ceremony; 9 a.m., floral parade; and 10 a.m. hoolaulea starts at Kamehameha Park, where the celebration will feature hula and musical entertainment, food booths, craft demonstrations and artist booths. Click here for more information.
• Sat., June 16, 9 a.m. to 11 a.m. — King Kamehameha Day Celebration Parade, Kailua-Kona. This parade features more than 120 riders on horseback, as well as floats, a horse-drawn carriage, marching bands and hula groups. All eight Hawaiian Islands will be represented by pau equestrian units, which will showcase the colors and flora of each island. Click here for more information.
Maui
• Sat., June 16, 9 a.m.-all day — Na Kamehameha Commemorative Pau Parade and Hoolaulea. The annual Lahaina town tradition begins at 9 a.m. with opening ceremonies and a daylong hoolaulea at Banyan Tree Park with entertainment, food booths and craft and artist booths. The parade begins at 9:45 a.m. on Front Street. Click here for more details.
Kauai
• Sat. June 16, 10 a.m. — King Kamehameha Floral Parade in Lihue. The parade will start at Vidinha Stadium, along Hoolako Street.