Hawaii stars in "Forgetting Sarah Marshall"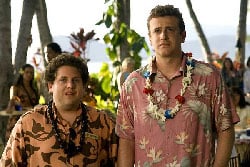 Hawaii is no stranger to movie screens. This Friday (4/18), Hawaii has another starring location role, this time in a new film called Forgetting Sarah Marshall.
Most of the movie's scenes were filmed on Oahu's North Shore, including places such as Turtle Bay Resort. Actor Jason Segel (who plays Peter Bretter, the film's main character) even wrote the script in Hawaii.
In this romantic disaster comedy, Segel's character, Peter, takes a trip to Hawaii in an attempt to heal his broken heart. But he discovers that his ex, Sarah Marshall (Kristen Bell), is staying at the same resort with her new boyfriend.
It's no surprise why many filmmakers set movies in Hawaii. The tropical sunny weather is appealing, just as much as Hawaii's palm trees and beaches. According to the Hawaii Film Office, the Islands hosted hundreds of feature films since 1913, including Jurassic Park, Pearl Harbor, Raiders of the Lost Ark, Waterworld, Blue Hawaii, From Here to Eternity and Godzilla.
We posted our favorite five "made-in-Hawaii" movies here, in January.
Forgetting Sarah Marshall is produced by Judd Apatow (Superbad, The 40-Year-Old Virgin), and features stars such as Mila Kunis ("That '70s Show"), Paul Rudd (Knocked Up, Clueless) and Jonah Hill (Superbad, Evan Almighty). Even a few Hawaii residents landed acting roles, including Hawaii surfer Kalani Robb.
As with any movie, there's always mixed reviews. Here's a sample of what critics had to say: Rotten Tomatoes, The Village Voice, The Movie Blog and Canadian Broadcasting Corporation (CBC).