Hawaii steak-out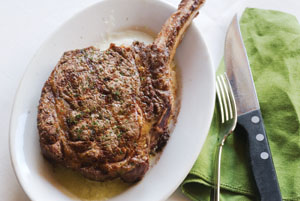 Vegans and vegetarians need not read further.
Beef. It's what's for dinner in HAWAII Magazine editor John Heckathorn's dining column for the March issue of sister publication, Honolulu.
Ever the completist when it comes to dining out, our J. Heck sampled Wagyu and Angus ribeyes, NY cuts, filet mignons, Delmonicos and more at six Hawaii steakhouses on Maui and Oahu.
Fortunately, I toil at a desk near John, so I got to accompany him to two of these: one quite good, the other quite bad. See if you can figure out which was which when you check out John's collection of Hawaii steakhouse reviews here.
(Hint: the good one served up a steak wonderfully seared over kiawe wood on a brass-and-copper cauldron; the bad one will, I think, be pretty obvious.)
After that, tell us below about a brush with dining nirvana—or the complete opposite—you've had in Hawaii.
Your fellow Hawaiimagazine.com gourmands are waiting.