Hawaii travel news: Alaska Airlines launches seasonal sale, Maui opens first hotel airport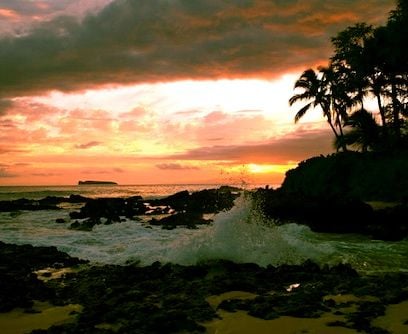 Here's a bit of Hawaii travel news: Alaska Airlines is offering an escape to Maui from likely weather forecasts of rain and snow in the Mainland's Northwest region; Maui's first airport hotel opens; and recent visitor travel in Hawaii is on the rise.
• Alaska Airlines announced this week that it's launching new seasonal service between Bellingham, Wash., and Kahului, Maui. The carrier is now offering one-way introductory fares for as low as $179 for travel between Nov. 8 and Dec. 24, 2012. If you would like pick up an introductory ticket, you'll have to move quickly as tickets must be purchased by Tues., July 3.
In a news release issued by Alaska Airlines, Joe Sprague, vice president of marketing, said: "Our growing service out of Bellingham gives customers across western Washington and southern British Columbia more ways to reach sunny Hawaii." Bellingham International Airport is 22 miles south of the Canadian border.
The Maui-Bellingham seasonal service is slated to include four weekly flights, between Nov. 8, 2012 and April 14, 2013. For additional information about the service and related fees, click here.
• Maui's first airport hotel, tailored for both leisure and business travelers, opened last week in Kahului. The Courtyard by Marriott is a four-story, 138-room hotel located near Kahului Airport and close to Maui's business, commercial and governmental center. The hotel's project's reported price tag of $30 million, included $16.5 million in construction costs.

The hotel aims to fill a gap between luxury hotels and budget lodging options. Its lobby features: interactive LCD touch screens, each loaded with maps, weather and news, business and sports headlines; a "business center" that allows guests to check e-mail and print documents; and semi-enclosed "Media Pods" decked with flat-panel TVs.
Marriott now has more than one dozen hotel and timeshare properties on Kauai, Oahu, Maui and the Big Island. Its first hotel in the Islands — the Maui Marriott at Kaanapali — opened in 1981.
Plans to build a hotel near the airport first took shape about a decade ago but were put on hold by economic concerns. Alexander & Baldwin Inc. secured county approvals, including a zoning change in 2002, and later shelved building plans because of high construction costs. Hotel construction got under way in April 2011. For more information about the hotel, click here.
• According to the Hawaii Tourism Authority, more visitors are traveling to the Islands. During May 2012, the total visitor tally was 622,899, an increase of 12.5 percent over the tally for May 2011 (599,842 visitors.)
Officials note that the summer season is expected to bring even higher monthly tallies due in part to new direct airline service including: Hawaiian Airlines' New York flight and United Airlines' Washington D.C. flight, which are now under way. Also, for the first time, Nevada-based Allegiant Airlines is providing air service to Hawaii, with Las Vegas and Fresno flights. Today, the first flight from Las Vegas touched down at Honolulu International Airport on Oahu. The new flight from Fresno, Calif., is slated to arrive in Honolulu on Sun., July 1.