Hawaii volcano watchers on NationalGeographic.com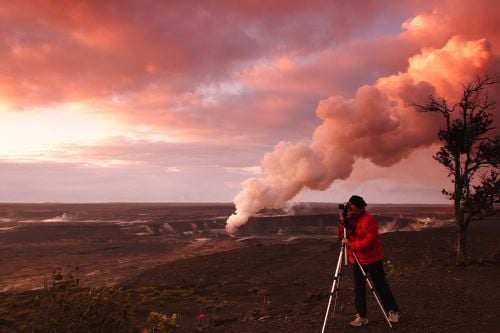 We knew our favorite Kilauea Volcano watchers Steve and Donna O'Meara were world famous in their field. Now National Geographic readers know, too.
The video below—recently posted on National Geographic's Web site—features the couple and their team of "volcano commandos" traversing the slopes of Italy's Stromboli volcano. The footage was shot in 2002 for a National Geographic Explorer film Volcano Chasers.
In it, they brave some nasty rain, wind, fog and cold near Stromboli's fire-belching vents to prove their "Earth Tides" theory. Like most astronomers, the O'Meara's believe volcanoes get more active when the moon is closest to the Earth and exerts increased gravitational pull.
"Believe it or not, we were actually working on a daily basis INSIDE the active vents," wrote Donna, by e-mail from Hawaii's Big Island. "When we filmed, about four of them were going off. You never knew where to point your cameras!"
The O'Meara's live in Volcano Village, a small residential town a few miles from Kilauea's summit. We ran a post in February about the couple's then just-released book, Volcano: A Visual Guide.
It's still a great volume, chockfull of the O'Meara's stunning photography and information on volcanoes, eruptions and lava whether undersea, on land or in the cosmos.
The O'Meara's may soon be off to Italy once again—this time, to check out recent activity at Mount Etna. But as always, they'll return home to Kilauea.
Wrote Donna: "We work all over the planet. But we're always tickled pink—or should I say 'lava red'—that HAWAII Magazine and its dedicated readers are interested in our photos, work and volcano escapades."
Click here to check out our collection of posts on eruptive activity at Kilauea Volcano this year. Our collection also includes great Kilauea photography from the O'Meara's (like the one above of Donna near the ash and steam plume at Halemaumau Crater).
Click the image below for the National Geographic video of the O'Meara's.