Hawaii Volcanoes National Park closes for second time this month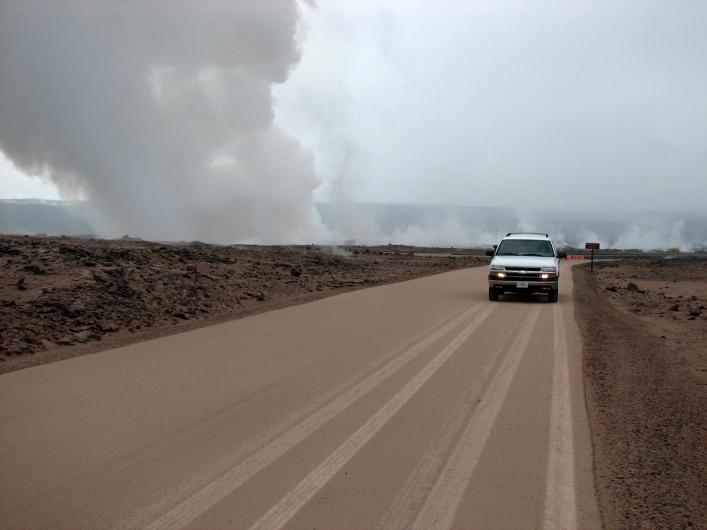 High levels of sulfur dioxide from Kilauea eruptions today closed Hawaii Volcanoes National Park for the second time this month.
This afternoon's closure—like the first, on April 8— was caused by noxious fumes emanating from eruptions at Kilauea's summit Halemaumau vent and further downslope Pu'u O'o vent.
"Our primary concern is for the health and safety of visitors and employees," said incident commander Joe Molhoek. "We're in close contact with the National Weather Service and look forward to favorable winds by week's end."
Park rangers were clearing all facilities and campgrounds. Guests at the Volcano House hotel overlooking Kilauea caldera and Halemaumau crater, and residents of Kilauea Miliarty Camp on the summit, were being evacuated. Only National Park Service emergency personnel will remain on duty until weather conditions return to normal.
More than 2,000 visitors, campers, residents and employees were evacuated from the 500 square-mile park on April 8 when volcanic emissions containing high levels of sulfur dioxide enveloped the Kilauea summit. The park remained closed for two days until tradewinds shifted the vog (or "volcanic smog") downwind of the summit and out to sea.
It was the first time Hawaii Volcanoes National Park had closed since 1982.
You can keep track of sulfur dioxide levels and wind directions at Kilauea here. The site updates information from Halemaumau and Pu'o O'o vents every 15 minutes.