Hawaii Volcanoes National Park hosts "Explore Kahuku" hikes, annual cultural festival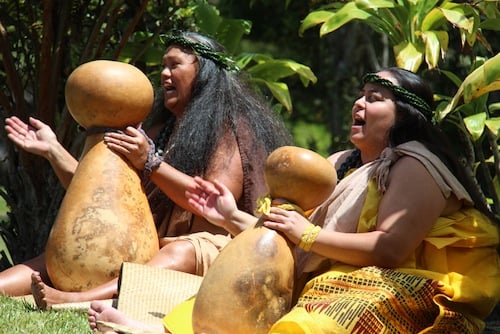 Feeling adventurous? We thought so. If you're visiting the Big Island between now and September, you can escape deep into nature on Mauna Loa volcano with a handful of free, guided hikes.
From July through September, Hawaii Volcanoes National Park invites the public to "Explore Kahuku," a little-known area of Hawaii Island on the southwestern slopes of massive Mauna Loa volcano rich in diverse native environments and archeological artifacts. The park is offering several free programs and guided hikes escorting visitors to views of Kahuku's lava fields, pastureland and forests, and giving insight into Hawaiian history and culture.
The park's celebration of Kahuku kicks off this Saturday (July 12) with the 34th Annual Hawaii Volcanoes National Park Cultural Festival, located within the Kahuku unit.
Hawaii Volcanoes National Park is located in the Kau and Puna districts on Hawaii Island, and encompasses two active volcanoes: Kilauea and Mauna Loa. Kahuku is Hawaii Volcanoes National Park's most recently acquired unit of land, purchased by the National Park Service from private landowner Kahuku Ranch in 2003. Spanning 116,000 acres of the park's 323,000 total acres, Kahuku is home to many endemic Hawaii plants and animals, and an important restoration area for both.

Kahuku explorers can look forward to the following free activities sponsored by Hawaii Volcanoes National Park:
34th Annual Hawaii Volcanoes National Park Cultural Festival
Come to Kahuku on Saturday, July 12 and expand your knowledge of Hawaiian culture! This year's theme, Kau hiehie i ka makani ("Kau regal in the gales"), refers to the multi-directional winds that cool the land in Kau. Enjoy the summer breeze as you eat traditional Hawaiian food, make Hawaiian crafts, watch hula kahiko (traditional hula) and listen to live music at this annual cultural festival. Don't miss Na Hoku Hanohano Hawaiian music award-winning singer and ukulele artist Diana Aki, one of the many musicians playing at the event. For those who want a more active way to celebrate, two hikes will be offered: the brand-new Puu o Lokuana cinder cone hike from 10-11 a.m., and the Ohia Lehua hike from 1-2 p.m. The festival runs from 10 a.m. to 3 p.m.
Saturday, July 12 from 10 a.m. to 3 p.m. at the park's Kahuku Unit in Kau.
Lei making at last year's cultural festival. Photo Credit: National Parks Service/Jay Robinson.
Puu o Lokuana (New!)
Take a short, moderately difficult 0.4-mile hike to the top of Puu o Lokuana, a grassy cinder cone, to learn about its history and enjoy the view of lower Kau.
July 12 during annual Cultural Festival from 10-11 a.m.
Aug. 13 (Statehood Day) from 9:30-10:30 a.m.
Kahuku: Born from a Hotspot (New!)
Learn about the fiery history of the Islands, from the Hawaii volcanic hotspot that birthed each, to past eruptions that impacted the Kahuku region, to the origin of other volcanic features, such as Kahuku's many puu (hills).
Aug. 17 & Sept. 1 (Labor Day), from 9:30-11:30 a.m.
Hiiaka & Pele (New!)
Take an easy, 1.7-mile walk on Kahuku's main road, and listen to the epic legends of Hawaiian goddesses, sisters Pele and Hiiaka, and their impact on Kahuku's natural landscape.
Sept. 21 from 9:30-11 a.m.
Palm Trail Hike. Photo Credit: National Park Service
Palm Trail
View ranching era relics, sections of remnant native forest, and volcanic features from the area's 1868 eruptive fissures on this guided hike along an ancient cinder cone. Palm Trail is a moderately difficult, 2.6-mile hike.
July 13 & 26, Aug. 9 & 31, Sept. 20, from 9:30 a.m. to 12:30 p.m.
People & Land of Kahuku
This three-hour guided hike is of moderate difficulty, spanning two miles of Kahuku's varied landscape, including emerging native forests, pastures, and lava fields. Learn about how people have lived and worked in these environments throughout history, and how people have adapted to, shaped and restored the land.
July 19 & 27, August 23, Sept. 13 & 28, from 9:30 a.m. to 12:30 p.m.
Ohia Lehua
On this easy one-mile walk, learn all about the beautiful ohia lehua tree and flower, including the vital roles it plays in native Hawaiian forests. You'll also learn about the ohia tree's many forms and its vibrant, fan-like lehua flower.
July 12 during annual Cultural Festival from 1-2 p.m.
July 20, Aug. 3, Sept. 7, from 9:30-10:30 a.m.
All hikes meet near the parking lot in the Kahuku unit of Hawaii Volcanoes National Park. The Kahuku unit is on the mauka (uphill) side of Highway 11, near mile marker 70.5.
The staff of Hawaii Volcanoes National Park recommends bringing sturdy footwear, sun protection, raingear, water and a snack for all hikes. No advance registration required.