Hawaii Volcanoes National Park marking fifth anniversary of Halemaumau summit eruption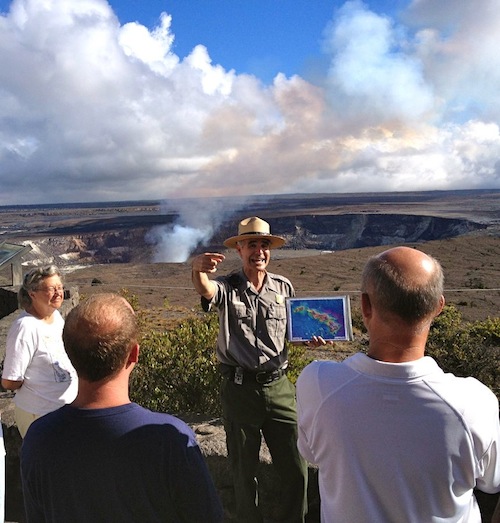 Tomorrow (Tues., March 19), Kilauea Volcano's summit eruption within Halemaumau Crater will marks its fifth year of continuous activity.
To commemorate the anniversary, rangers at Hawaii Volcanoes National Park are offering additional Life on the Edge talks at the Jaggar Museum observation deck, which overlooks the fuming summit vent. The 20-minute talks, which detail the dramatic geological and mythological history tied to Halemaumau Crater, are slated to get under way at 10 a.m., 11 a.m., noon, 2 p.m., 3:30 p.m. and 5 p.m.
Kilauea's summit vent opened at 2:58 a.m. (Hawaii time), on March 19, 2008, when an explosive eruption created a gaping hole about 115 feet wide on the south wall of Halemaumau Crater. Nighttime glow from the hole suggested the presence of molten lava. However, it wasn't until six months later that a lake of roiling lava deep within the vent was definitively observed by U.S. Geological Survey Hawaiian Volcano Observatory scientists.
Since 2008, rock collapses within the vent have enlarged its opening on the floor of Halemaumau Crater. In a news release issued by Hawaii Volcanoes Park Service and Hawaiian Volcano Observatory, Jim Kauahikaua, scientist-in-charge at the observatory, said the vent is now about 520 feet by 700 feet (the area of about 21 Olympic-sized pools) and is likely to continue growing through further collapses of overhung sections of the vent rim.
Kauahikaua described the lava within the vent as a continuously circulating gas-rich "foam" that rises and falls depending on changes in Kilauea's subsurface magma pressure. The lava lake reached its highest level to date on Oct. 26, 2012, when the lava surface rose to within 72 feet of the vent rim.
While the actual lava lake is not visible from safe viewing areas, its glow—the "diffusion of incandescent lava light within the gas plume rising from the vent"—is easily observed from park overlooks on clear nights. When the lava lake level is especially high, park visitors can sometimes hear the sounds of rocks in the vent wall expanding and cracking due to the increased heat.
In the news release, said Hawaii Volcanoes National Park Superintendent Cindy Orlando said: "The amazing beauty of this eruption, and the ease of viewing opportunities within Hawaii Volcanoes National Park, provides both visitors and residents with unforgettable experiences." She added, "Where else in the world can you park your car, and walk just a few feet to behold the spectacle of one of the world's most active volcanoes?"
Jaggar Museum and the overlook are wheelchair- and stroller-accessible. Other spots for viewing Halemaumau within the park include Kilauea Overlook, Kilauea Iki Overlook, and Keanakakoi Overlook. For additional information about viewing areas, click here.
Daily updates on Kilauea volcano activity are available at the Hawaiian Volcano Observatory website.
HawaiiMagazine.com has reported regularly on lava activity at Kilauea volcano and Hawaii Volcanoes National Park on the Big Island. Click here to catch up with all of our Volcano News posts. You can also follow our updates on our Twitter and Facebook pages.