Hawaii works by Georgia O'Keeffe and Ansel Adams exhibit enters final weekend at Honolulu Museum of Art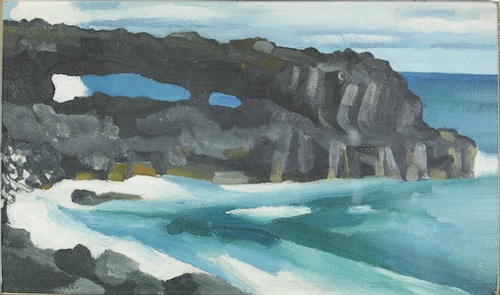 It's the last weekend to view a collection of Hawaii works by pioneering American artists Georgia O'Keeffe and Ansel Adams, on display at the Honolulu Museum of Art.
In 1929 painter Georgia O'Keeffe and photographer Ansel Adams met for the first time in Taos, New Mexico. She was an established artist; he was just starting his career. Despite a 15-year age gap and different personalities, the two forged a friendship that lasted the rest of their lives.
In their own unique ways, these two artists had the ability to capture the beauty of the natural world they both revered. The two corresponded and visited each other over the years, even traveling together on occasion to places that became subjects of their work.
Separately, both briefly worked on projects in Hawaii. The works of both artists in the Islands are the centerpieces of the exhibition, Georgia O'Keeffe and Ansel Adams: The Hawaii Pictures, which opened at the Honolulu Museum of Art in July 2013.
The exhibition was the first solely dedicated to collectively featuring the paintings and photographs created in Hawaii by O'Keeffe and Adams. And there are just three days left to see the exhibit, which closes Sunday after a six-month run.
Ansel Adams' "Roots, Foster Garden, Hawaii," 1948, gift of Mr. and Mrs. Henry B. Clark, Jr., 1989 Photo: ©2013 The Ansel Adams Publishing Rights Trust
While both artists are inextricably connected with specific places—O'Keeffe to the American Southwest; Adams to Yosemite National Park—it is largely a little-known fact to many that both artists spent brief periods in Hawaii between 1939 and 1958 capturing Hawaii's essence and sense of place.
O'Keeffe stayed for two months on O'ahu in 1939, creating two illustrations for print advertisements for the Hawaiian Pineapple Co. (now Dole Co.). She visited Maui, Kaua'i and the Big Island, capturing the island's dramatic coastlines, volcanic terrain and tropical plants in 20 paintings, some of which are part of the Honolulu Museum of Art exhibit.
Adams visited the Islands in 1948 on a project to take photographs for a series on national parks for the Department of the Interior. He returned 11 years later for a commemorative publication for Bishop National Bank of Hawai'i (now First Hawaiian Bank). Fifty of his gelatin black-and-white prints—featuring both his signature panoramic and scenic photos, in addition to portraiture and scenes of day-to-day life in Hawaii in 1958—are included in the Hawaii Pictures exhibit.
Georgia O'Keeffe's "Waterfall — No. III — Iao Valley," 1939, oil on canvas Photo: Honolulu Museum of Art
The exhibition of O'Keeffe and Adams Hawaii works will next travel to the Georgia O'Keeffe Museum in Santa Fe, N.M. An exhibition there begins in February.
To learn even more about the back stories behind O'Keeffe's and Adams' visits to Hawaii, read the HAWAII Magazine feature Georgia and Ansel in Hawaii in our July/August 2013 issue. The issue is available for sale on our HAWAII Magazine's Apple iPad Newsstand, or by contacting our Circulation Department at (800) 788-4230 or (808) 534-7520.