Hawaii works by Georgia O'Keeffe, Ansel Adams to be showcased in Oahu exhibition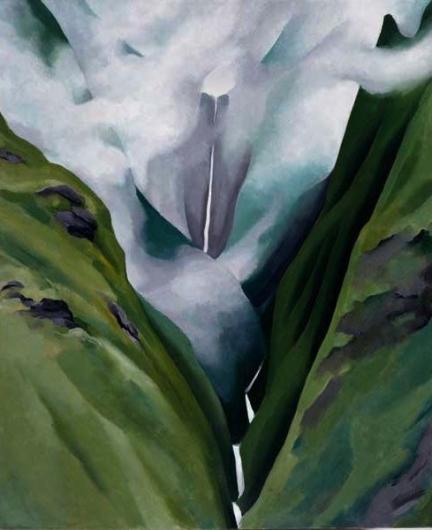 Honolulu Museum of Art has plans for several exhibitions in the works for 2013. Among the most anticipated: Georgia O'Keeffe and Ansel Adams: The Hawaii Pictures." According to the museum, the exhibition will be the first to "feature in dialogue work created in and about Hawaii by these two American masters."

Both artists are associated with specific places—O'Keeffe is tied to the American Southwest and Adams is known for his black-and-white photography of Yosemite National Park. Also, both visited the Islands as prominent artists, and sought to capture Hawaii's sense of place. The Hawai'i Pictures explores each artist's Hawaii stay and reveals how the Islands influenced their subsequent work.
O'Keeffe spent three months in Hawaii during 1939 while on assignment for Hawaiian Pineapple Company (now Dole Pineapple Co.) She was tasked with producing two paintings for a national advertising campaign. The artist produced 20 paintings of tropical plants, verdant landscapes and the blue-green sea — and did not paint a single pineapple. After returning to New York, though, she reported painted a delivered pineapple.
Adams first visited the islands in 1948 to take photographs for a series on national parks for the Department of the Interior. He and returned in 1957 for a commemorative publication for Bishop National Bank of Hawaii (now First Hawaiian Bank).
Theresa Papanikolas, Honolulu Museum of Art's curator of European and American art, and curator of the exhibition, said in a written statement: "Both artists wanted to unmask what lay beyond the beaches of Waikiki."
Papanikolas continued: "O'Keeffe went beyond prevailing stereotypes and pictured Hawaii in terms of her own authentic and deeply personal response to its natural beauty. Meanwhile, the work that Adams did in the island reflected and augmented his broader aim to exploit the capacity of modern photography to reveal the essence of a given subject and, in doing so, make America's celebrated spaces immediately identifiable and accessible."
The Hawaii Pictures exhibit is slated to start on July 18, 2013 and wrap up on Jan. 12, 2014. For additional information about the Honolulu Museum of Art, click here.