HAWAI'I writers reveal the coolest stuff they've done in 2015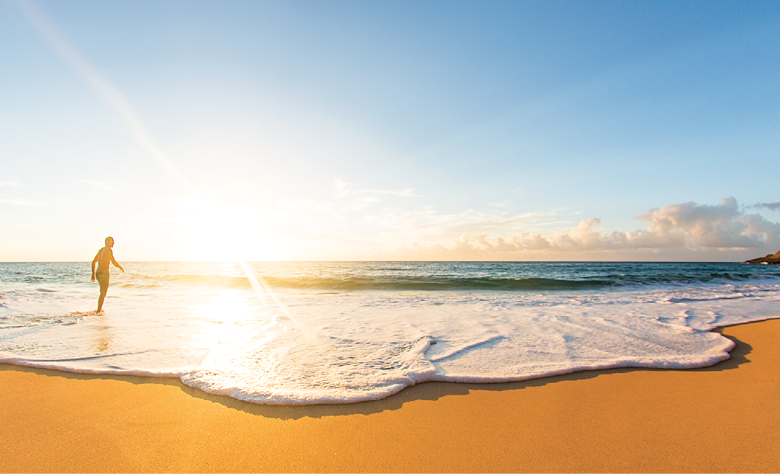 Before we surf, hike, swim and eat our way into 2016, let's take a quick look back at this past year of HAWAI'I adventures.
Seeing the Napali Coast by boat

"The photos of this Kauai coastline are beautiful, but nothing compares to actually seeing it in person, which is what I did earlier this year on a boat from Kikiaola Harbor to Kalalau Valley and back. The experience is what's motivating me to hike the 11-mile Kalalau Trail in 2016."
— Christine Hitt, editor
Swimming with sharks off Haleiwa, cage-free

"I went on a pelagic tour with Island View Hawaii and it was the coolest thing I did all year. It was a spooky experience at first, but I gained a new respect and appreciation for these apex predators from watching them swim effortlessly in the water."
— Daniel Ikaika Ito, online/associate editor
Ziplining above Oahu's North Shore

"I've always been that family member to ride any roller coaster without hesitation. Give me all the loops and keep it above 75 miles per hour, please. That in mind, I'd be lying if I said I wasn't somewhat nervous to zipline with Climb Works Keana Farms, something I've never done before. Maybe because unlike those roller coasters with their buckled in seats that rival straight-jackets, hanging in a sole harness in the open air seemed suspect. Once I got into the, uh, swing of it, all of that vanished and I got to see more of Kahuku on the North Shore than I ever did before (spoiler: it's very wide and green) and from a totally new perspective."
— Matthew Dekneef, digital media manager
Snorkeling with manta rays
"I'm not a water person, but, when I visited Hawaii Island, I couldn't pass up snorkeling with manta rays at night with Eka Canoe Adventures. The very moment you see your first manta ray gliding across the ocean floor and up and around you is a special experience you'll remember for a long time."
— Christine Hitt, editor
Hiking out to Puu Pehe on Lanai
"This winter I went to Lanai for the first time. It is a serenely beautiful island populated with genuinely warm hearted people. All the island's residents know each other; everyone waves hello to you as you drive past! During my neighbor island day trip, I hiked out to Puu Pehe, also known as Sweetheart Rock. It's a 15 minute hike to one of the island's most iconic sites; there are tide pools and popular spot for spinner dolphins. And like most of Hawaii's places it is rife with Hawaiian lore. This puu, or rock, towers in between south Lanai's two bays, Manele and Hulope. The rock is named for Pehe, a Hawaiian woman from Lahaina, Maui. Her lover, Makakehau, a Lanai warrior was so taken by her beauty he hid her in a nearby sea cave to shield from others. But while he was away, there was a severe storm and Pehe drowned. Overtaken with grief, Makahehau buried her atop the rock and then jumped to his death into the roaring surf below."
— Tiffany Hill, freelance writer and contributor
Making a pilgrimage to the birthplace of the Bikini Blonde Lager

"I had an awesome time touring the Maui Brewing Co. brewery in Kihei and then sitting down with its founder and CEO in the Kaanapali brew pub. Their Bikini Blonde lager is my favorite beer of all time and it was a pleasure to shake the hand of the man that first made it."
— Daniel Ikaika Ito, online/associate editor
Camping at Polihale on Kauai

"The large white sand beach is a spectacular sight, especially at sunset when the sun's colors are reflected on the mountain and sand in hues of orange and red. I loved getting up in the middle of the night, too, to see the millions of stars overhead."
— Christine Hitt, editor
Touring Hokulea's sister voyaging canoe Hikianalia
"What the crew members of this canoe do sort of blows my mind: navigating the world's oceans using ancient Hawaiian navigational techniques and without the aid of modern tools. That I used the GPS on my phone just to get to where Hikianalia is docked on Oahu's Sand Island after its crew recently returned from Tahiti using nothing but the stars wasn't lost on me. For about an hour and a half one afternoon I saw where they eat, sleep and look out onto the horizon to get from Here to There using just the sky and sea. I listened to one of its youngest members, about 22 years old, tell me how retracing those constellations at night makes him feel like he's retracing his entire lineage. To see how connected these people are to where they're from to reach something ahead of them … Humbling."
— Matthew Dekneef, digital media manager
Follow us into 2016 and make your own adventures this new year by subscribing to HAWAI'I Magazine here. Follow us on Instagram, Twitter and Facebook.