Your Guide to Waimea, Hawaiʻi Island
Among the pastureland and paniolo, farmers markets, breweries and more thrive in the little town of Waimea on Hawai'i Island.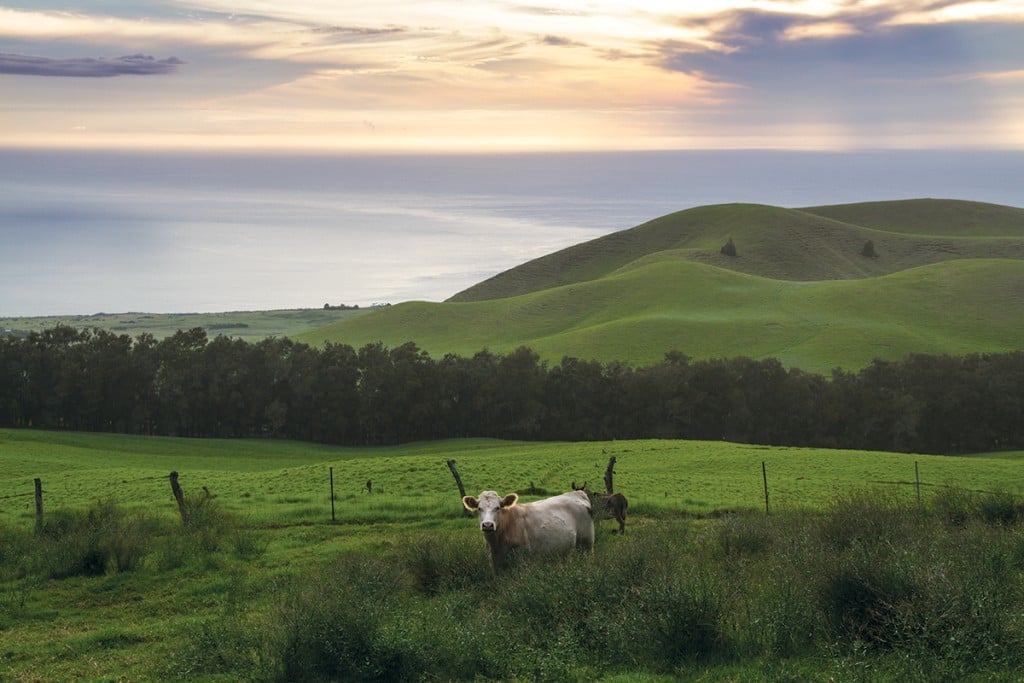 Waimea on Hawai'i Island, known for its green pastures, cattle and cowboys, has long been considered paniolo (Hawaiian cowboy) country. But it's more than that: Today, it's a popular destination for delicious food, fine arts and local culture. Here are some places you can visit during your trip to this quaint, historic country town.
Waimea Town Market
Waimea Town Market is a popular farmers market located in front of Parker School in the center of town. The market is home to over 40 vendors selling produce, hot food and other goods. Indulge in French pastries from Hawai'i Tart Co., admire varieties of orchids from Poppas Orchids and enjoy a hot breakfast at Mai Breakfast. In the center of the market is a grassy area with picnic tables for you to relax or eat at.
Open Saturdays from 7:30 a.m. to noon, 65-1224 Lindsey Road, Kamuela, waimeatownmarket.com.
Kamuela Farmers Market
Kamuela Farmers Market is also located at Pukalani Stables; it operates on Saturdays. Here, you can purchase fresh produce, trees, plants, prepared foods, cut flowers, popcorn, coffee, handcrafted wood items, local dried fruit and more. The Paniolo Heritage Museum at Pukalani Stables offers free admission on Saturdays. A portion of vendor fees from the market goes directly to the Paniolo Preservation Society and its mission to preserve, protect and promote Hawai'i's paniolo heritage. The market also features live music every Saturday and leashed pets are allowed.
Open Saturdays from 7:30 a.m. to 1 p.m., 67-139 Pukalani Road, Kamuela, kamuelafarmersmarket.com.
Kahuā Ranch
Established in 1928, Kahuā Ranch in Kamuela offers horseback riding, paniolo barbecue dinners and venues for hosting events. Experience spectacular views of mountains, coastlines, cinder cones and lush pastures while horseback riding at Na'alapa Stables at Kahuā Ranch. The rides are for everyone, from beginners to experts. You can also reserve a spot for a paniolo barbecue dinner on the farm.
Open daily for horseback riding (times vary), 59-564 Kohala Mountain Road, Waimea, kahua-ranch.com.
Big Island Brewhaus
The Big Island Brewhaus in Waimea started selling its locally brewed beers in 2011. The brewery won a gold medal for its Overboard IPA and two silver medals for its White Mountain Porter and Red Giant at the U.S. Open Beer Championships in 2013. The brewhaus, at an elevation of 2,764 feet, also serves a wide variety of food and has freshly made margaritas, by the bottle and by the glass. Also, due to the COVID-19 pandemic Big Island Brewhaus offers no-contact pickup for food and beverages.
Open 11 a.m. to 8 p.m. daily, 64-1066 Māmalahoa Highway, Kamuela, bigislandbrewhaus.com.
Hawaiian Style Café
Hawaiian Style Café has been serving local Hawai'i cuisine since 1993. The menu includes comfort food such as loco mocos (white rice, hamburger, fried egg and gravy), kalbi rib plate lunches and kālua pork (smoked shredded pork). Stop in for breakfast, lunch and dinner, and order almost anything at any time. The portions are large and worth every penny.
Open 7 a.m. to 1:30 p.m. Mondays to Saturdays and 7 a.m. to noon Sundays, 65-1290 Kawaihae Road, Kamuela, hawaiianstylecafe.us.
Waimea Nature Park
Take a walk through the 10-acre Waimea Nature Park, also known as Ulu Lā'au. The park has the largest collection of variously colored 'ōhi'a lehua trees in the state. It was acquired by the Waimea Outdoor Circle in 1999. Volunteers cleared the area, which was once pastoral land, and planted endemic and indigenous native Hawaiian plants the following year. Make some furry friends, as many locals bring their dogs to this historic park. Entry is free and the park is open seven days a week.
Open 7:30 a.m. to 5:30 p.m. daily, 66-1246 Māmalahoa Highway, Waimea, outdoorcircle.org/waimea.html.
Pâtisserie Nanako
Since opening in January 2021, Pâtisserie Nanako in Waimea has been bustling with customers, many of whom line up hours before the bakery opens at 8 a.m. The family-owned shop serves fresh Japanese-style pastries including pillowy strawberry shortcake, delicate Japanese cheesecake and classic tiramisu, along with Japanese pan (bread) and jelly drinks. Each dessert is made by hand and with fresh ingredients.
Pâtisserie Nanako's signature dessert is a raspberry ladybug—rich chocolate mousse encased in a sweet raspberry glaze with a light chocolate cake base. Nanako Perez-Nava created the dessert when she worked for the Moana Surfrider. The ladybug represents the resort's nickname, "First Lady of Waikīkī," (it was the first hotel built on Waikīkī Beach) and also is a symbol of good luck. Now, it's the logo for Pâtisserie Nanako. P
Open 8 a.m. to noon (or until sold out) Tuesdays to Saturdays, 64-1067 Hawai'i Belt Road, Suite A5, Waimea, @patisserienanako, facebook.com/patisserienanako.
This story was originally published in our 2022 Spring issue. Buy a copy here.